Although PayPal offers a method of direct deposit from the available funds in your account to your bank account, some people would prefer to have a paper trail. So they request a check be mailed. Cashing a check from PayPal is as simple as cashing any other check, but there are some steps to ensure that you actually get a check rather than getting a direct deposit.
Getting the Check from PayPal
Step 1
Click on the "My Account" tab on your PayPal interface and click the "Withdraw" button. This button takes you to the section of the site where you can get money that is currently in your account and transfer it to your regular bank account. It is also where you can request a check or get cash from an ATM.
Step 2
Click "Request a check from PayPal" and go through to the next page. You will be warned that PayPal will charge a $1.50 check writing fee to your funds--so whatever you withdraw, it will actually be $1.50 less.
Step 3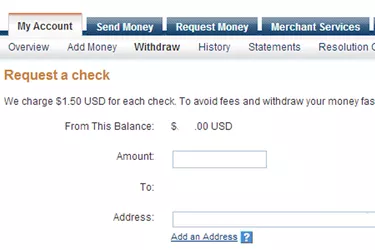 Pick which address you want the check to be sent to. Add the amount of money you want to withdraw and then click "Continue." You will be transferred to a verification page where, with one more click, you will submit the request.
Cashing the Check from PayPal
Step 1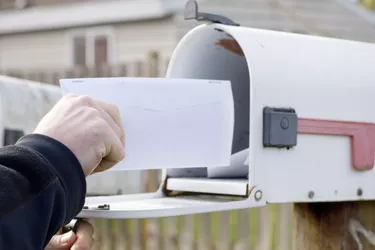 Expect the check in five to 10 days, per PayPal guidelines. Once the check arrives, take the check to the bank that you have an account with.
Step 2
Endorse the back of the check. Write the account number of your checking account on the check so that the bank knows which member is trying to cash the check. This is the bank's added step for security.
Step 3
Hand the check over to the bank teller. Put your hand out as the teller counts out the amount of money written on the check.
Tip
PayPal offers an electronic withdrawal. It is typically much easier, faster and is free of charge.
Warning
Some banks refuse to cash checks because it can be risky to them. Be aware of your specific bank's cash checking policy.