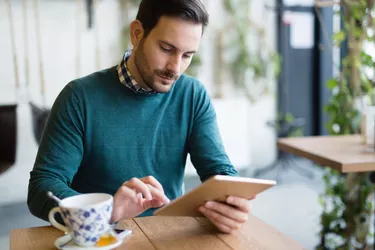 You probably know Wells Fargo as a bank, but they also provide payroll and HR services to businesses. If you're holding a payroll check with Wells Fargo's branding on it, you probably wonder if you need to take it to a Wells Fargo location to turn it into cash. To cash a Wells Fargo payroll check, you can take it to your own bank, visit a Wells Fargo bank, go to customer service at a store like Walmart or Kmart or visit another location that can conduct a Wells Fargo check verification and issue cash in exchange for a small fee.
Cashing Wells Fargo Payroll Checks
The fact that your paycheck was printed by Wells Fargo does not mean you should take it straight to a Wells Fargo location. As with any paycheck, you should head to your own bank to deposit or cash it. Your own bank will provide this service for free, although some banks require a hold on any deposited checks in certain circumstances, which will get in the way of getting immediate cash.
If you don't have a bank account and you want to cash the check, you'll have to pay a fee for the service. As with Chase, SunTrust or Bank of America checks, you're asking a location to cash a check for you. Wells Fargo provides this service for checks drawn on one of its accounts, but you'll be charged $7.50, which will come out of the cash you get back.
There's also a limit on the amount Wells Fargo will cash. The maximum allowed is $2,500, but each branch has the right to set a limit lower than that amount.
Most Affordable Check-Cashing Options
Aside from your own bank, the best place to turn your Wells Fargo payroll check into cash is a place you probably shop every week. Kmart has the lowest fees and, in some states, will even cash checks for free. At most, you'll pay $1.
Many checkholders choose Walmart as a preferred payroll check-cashing option. There will be a Wells Fargo check verification process, as with any check, to make sure the funds are covered and that you're the person listed on the check. If the value on the check is $1,000 or below, you'll pay only $4. From $1,000-$5,000, that fee increases to $8.
You should also consider taking your check to your favorite grocery store. If you have a shopper's card at Kroger, for instance, you'll pay the same rate you'd pay for any other type of payroll check, including Bank of America checks, which is $3 for amounts up to $2,000. That goes up to $5.50 for amounts above $2,000 and up to $5,000.
Banks and Credit Unions
If you plan to cash Wells Fargo payroll checks often, it might be worth checking with local financial institutions to see if there's a more affordable option. Wells Fargo will cash checks for non-accountholders drawn on its own accounts and no others, and many other banks are the same. You'll probably find you quickly reach a dead end with large, corporate banks that have a policy not to cash nonmember checks.
Small, local banks and credit unions may be another matter, especially if you live in a smaller community. These banks may conduct Wells Fargo check verification procedures, and they'll no doubt require that you provide a photo ID that matches the name of the person on the check. But this could be an ongoing option that saves you time, even if there's a fee attached.
Another option for cashing Wells Fargo or Bank of America checks is to take them to a check-cashing outlet, but make sure you price around before you do. These services charge outrageous fees — as high as 12 percent of the check's value in some states. If you're in a location where fees are capped, you may be able to get a better deal than you'll find anywhere else.