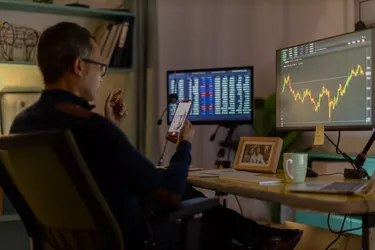 There are many rolling stocks trading in the stock markets. Rolling stocks are important because many traders use their rolling pattern for trading purposes. Traders buy rolling stocks when they trade at their low end, which is often referred to as a dip. Once bought, the trader waits for the rolling stock to move back to the high end of the trading range, and then sells when it gets there. Some traders who use the short selling strategy may sell the stock short at their high.
Rolling stocks have some distinct features which separate them from other stocks. They generally trade in a range. Their prices over time will move in a distinct pattern. Assume the price of a rolling stock is trading at $20 a share this week. In two weeks the price may be up and trading at $25 dollars a share. Then after one month the price of the stock rolls back to $19 a share, only to go up again in two months back to $24 dollars a share. This is a classic example of a rolling stock.
Apple is one example of a rolling stock. If one looks at the trading chart of Apple, one can see the ups and downs in the price of Apple stock. For instance, in Oct. 10, 2008, Apple stock was trading at $85 per share. By Oct. 17, the stock went up to $97 per share. On Nov. 4 of the same year the stock moved up to $110 per share, only to move back down again to $82 a share by Nov. 21.
Amgen is a biotechnology stock which rolls from one trading range to another. On Oct. 20, 2008, Amgen traded at $53 per share, and by Oct. 31, the stock had rolled up to $59 dollars per share. On Nov. 25, the stock moved back down to $54 per share, only to move back up once more to $57 by Dec. 19. Then on Jan. 1, 2009, the stock moved down again to $54 per share and continued back up to $56 per share by Feb. 17. This is a very clear example of a rolling stock.
Cognizant technology is very violent stock that trades with lots of volatility. It is a computer technology stock which rolls in ranges often. For instance on Oct. 9, 2008, the stock traded at $16 per share. By Oct. 17, the stock went up to $19 per share. In the next 10 days, the stock once more traded down at $16 per share. Then on Nov. 4, Cognizant stock went up in price again to $21 per share, and once more traded down to $16 per share on Nov. 19.
Google stock is one of the best examples of rolling stock. On Oct. 14, the stock traded at $362 per share. The following month Google went down in price to $257 per share on Nov. 24. By Dec. 19, the stock rolled up again to $310 per share. Then Google stock declined again to the price of $282 per share by Jan. 20, 2009. By February, the stock rocketed to $378 per share.