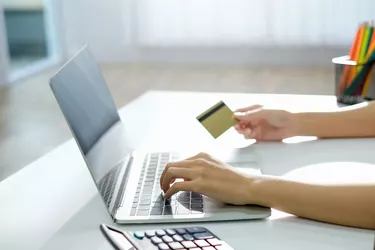 Savings accounts are common financial products that allow you to stash money securely, but limit your access to it (compared to a checking account). Depending on what your savings and investment needs are as you get older, you might find a savings account doesn't provide enough benefits to be one of your main financial accounts.
Understanding the advantages and disadvantages of savings accounts and determining when it's time to move your money to more useful financial products will help you open and use this account to maximize your personal money needs.
What Is a Savings Account?
There are different types of saving options, but in general, a savings account is a financial product that lets you deposit money and keep it there – safe – until you need it. You can make deposits in person at a bank or credit union or use your computer or phone to make deposits. You can also allow others to make certain types of bank deposits into your account via a direct deposit or wire transfer.
Unlike checking accounts, savings accounts aren't intended for everyday spending and withdrawals. They are intended to let you deposit money, build your savings, earn a little interest and have the money available when you finally need it. Many people use savings accounts for things like an emergency fund, Christmas club or annual vacation savings.
Advantages of Savings Accounts
One of the main advantages of savings accounts is that they are simple to use and they keep your money safe. Because you are putting money into their bank, banks make it easy for you to open an account (easier than getting a credit card). You can often open a checking account with $100. Most banks and credit unions insure up to $250,000 worth of your savings via the Federal Deposit Insurance Corporation. Couples can open separate savings accounts and double their insurance coverage.
Savings accounts are protected against fraud and errors, protecting you in the event someone hacks your account or steals your debit card or checkbook.
Savings accounts are easy to use. You can withdraw money using a withdrawal slip at your bank or credit union, or use your phone or computer to log in and get your funds sent to where you need them. Depending on where you bank, you might have a monthly fee for using the account, but can often get it waived if you maintain a minimum balance set by the bank or credit union. You generally earn a small amount of interest with a savings account, and usually more than you earn with a checking account.
Disadvantages of Bank Accounts
Of course, there are both advantages and disadvantages of savings accounts. The main downside of savings accounts is that you have less access to your money. With a checking account, you can make as many withdrawals as you want each month as long as you don't go over your deposit amount. With a savings account, you might be limited to a fixed number of withdrawals each month, based on your bank or credit union.
This means you can't set up automatic payments to pay many recurring bills, such as utilities, rent, car loan, mortgage, phone, cable, internet or subscriptions. While the U.S. Federal Reserve used to limit the number of withdrawals on savings accounts, it ended that rule in 2020.
You have fewer physical options for withdrawing money from a savings account. For example, with a checking account, you can withdraw your money using your phone, computer, ATM card, paper check, e-check or bank deposit slip. When you open a savings account, make sure you know exactly how many different ways you can access your money.
Some people open both savings and checking accounts and then link them. This allows you to quickly transfer money from your savings account to your checking account in the event you need to do so.
If earning interest is important to you, savings accounts offer low rates and you should look into different types of saving options. You might be better off investing in another product, such as a certificate of deposit, if you know you aren't going to need to touch your money for six months or longer.