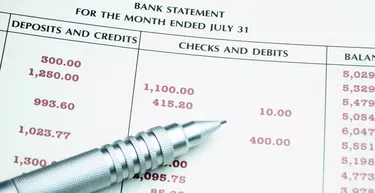 Your bank or credit account generally has two balances: the amount that's in the account as of the beginning of the day and the amount that you have available to spend. Your account balance reflects the amount of money in the account, while the available balance takes in to account pending transactions, check holds and other limitations to reveal the amount you actually can access.
Bank Balances
The distinction between the account balance and the available balance is that the former is the amount you're credited with possessing, while the latter is what you have to spend. If you deposit a personal check, for example, the funds may be listed in your account balance immediately, but your bank may place a hold on the funds for a few days until it can collect them from the issuer. In the latter case, some or all of the funds aren't reflected in your available balance.
Credit Accounts
The same concept holds true when you make a purchase on your debit or credit card that requires the merchant to place a hold on the card. For example, if you check into a hotel or rent a car, the employee who swipes your card often reserves more funds than the cost of the room or the use of the vehicle, to protect the business against additional charges to the room or damage to the vehicle. When the transaction is finalized, that hold is removed and you're subject only the charges you incurred. Until then, your available balance -- meaning how much more you can charge on the card -- is reduced by the amount of the hold placed on your account.