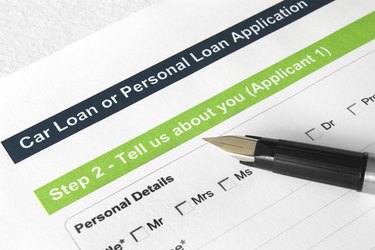 Where to get the best personal loan ultimately depends on your circumstances. It is always wise to seek a loan with a good interest rate. Banks tend to have good interest rates and can offer a variety of loans. For instance, Bank of America offers comparable rates for loans for your auto, boat and RV. If you bank at a credit union, it is likely to offer a variety of loans as well. However, if you are credit-impaired, the best option for you may be a subprime lender. With a subprime loan, your interest rate will typically be higher; however it would be beneficial for you, because it would give you the opportunity to establish good credit.
Local Banks
First, if you possess decent credit and a bank account, you may wish to apply at your local bank or other financial institution, such as a credit union. Banks have standard underwriting guidelines, which include proof of income, employment history and residency. This type of loan is suitable for someone who can document his income.
Documentation Requirements
There are several other companies that issue personal loans. You will need to be prepared to submit personal identification documents, such as a driver's license and Social Security card as well as proof of income.
Lenders With Flexible Requirements
American General Financial Services offers unsecured and secured loans with no application fee. You may use a personal loan for debt consolidation, home improvements, vacations, emergency expenses or other expenses. If you have a free and clear title of your automobile, this is a good source for a personal loan. The lending institution will usually loan on the value of your vehicle. Additionally, you may apply online and a representative will contact you by phone. Typically, you will need to show proof of income and several references. The interest rates are comparable with other lenders offering personal loans. Additionally, this is not a sufficient choice for a loan provider if you have no credit established or do not maintain any positive credit accounts.
First Bank of Delaware is a company that can also assist you in obtaining a personal loan. No paperwork or faxing is required, and you can apply online for a quick decision. If you are approved, you can receive your funds in as little as the next business day. Be prepared to submit your bank account information and at least two references.
Additional Lenders
Capital One offers personal loans; however, they are offered by invitation only. Additionally, you cannot have applied for a Capital One personal loan within the past 90 days and cannot be currently delinquent or have defaulted on any Capital One account in the past year. If you meet these criteria and you have received an offer through the mail, Capital One does offer flexible payment terms, a fixed rate guarantee in which you pay the same amount from month to month, no prepayment penalty and automatic payment options. If approved, you will receive your personal loan check, usually within 10 days.
CitiFinancial assists borrowers who have established good credit. Rates are based on credit history and your ability to repay the loan. You may receive a lower rate if you own a home. Additionally, CitiFinancial offers the ability to check the status of your loan application online.
Lendingtree.com is a source for matching borrowers to lenders. It has a variety of lenders that compete for your business. At its website you may apply for a personal loan among other types of loans, such as mortgage loans and auto loans. You will submit an application online with your personal information, and then you are matched to lenders. The lenders will then contact you by phone or email. There does seem to be a limited amount of lenders who can assist with personal loans. Additionally, Lendingtree will initially check your credit and any other lenders would run your credit report as well, if necessary.
Applying
Keep in mind that applying with several lenders will lower your credit score. Each time you apply with a lender, it will pull your credit, which results in an inquiry, which results in lowering your credit score.
When applying online, be sure to check whether the lender is properly licensed in your state. You may do this by checking with the financial division in your state. You may also access this information by visiting the Better Business Bureau online. By using the search business tool on the BBB site, you may access any licensing that the business or lender has, or is required to have. You may also check to see whether any complaints have been filed as well.