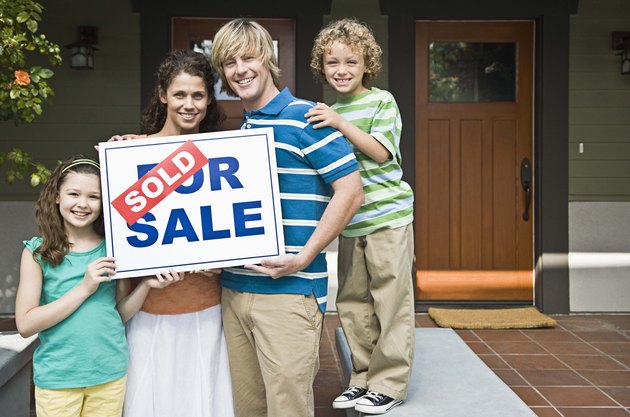 The Department of Housing and Urban Development plays a major role in down payment assistance programs throughout the country. HUD doesn't offer assistance directly to first-time buyers. Instead, it works with state and local governments that provide assistance in the form of grants, which don't require repayment, and financing, which must be repaid. In addition to administering funds and program guidelines, it also provides homebuyer counseling. You are a first-time buyer if you have not held an ownership interest in a home in the past three years.
First-Time Buyer Grants
No HUD-based program offers grants to cover 100 percent of a home's purchase price. Grants are administered in conjunction with financing from either a government-insured program or a conventional loan program. Popular government-backed loans include Federal Housing Administration loans, which come with a HUD guarantee that reimburses the lender if you default. You must have sufficient income, credit and assets to get a mortgage from a financial institution before you can qualify for a first-time homebuyer grant.
Secondary Financing For First-Time Buyers
Secondary financing works with an FHA or conventional first mortgage to supply a low-interest loan that covers all or a portion of your down payment requirement. FHA loans require 3.5 percent down, while conventional loans for first-time buyers require 3 percent or 5 percent down. Down-payment loans must be repaid within a specified number of years, but may not require monthly payments. Some loans can be repaid upon refinance, sale or if you otherwise move out of the home or pay off the first mortgage in full. Secondary financing programs may require HUD approval, depending on the source. For example, private nonprofits and government-based nonprofits need HUD approval, but government entities -- agencies that aren't nonprofits -- don't need HUD approval. You can find a list of approved nonprofits on HUD's website.
Strict Stipulations for Assistance
Guidelines regarding income limits, household size, homebuyer education and occupancy apply. Programs administering down-payment grants or loans follow certain income requirements to ensure that the assistance goes to low- and moderate-income buyers. Income caps vary by area and the number of members in your household. HUD requires applicants to complete first-time homebuyer education, which provides financial counseling for the mortgage qualifying process and home ownership. You can only receive down payment assistance if you intend to use the new home as your primary residence.
Processing and Protocol
Contact reputable lenders and your local housing agency to begin identifying down payment assistance programs. You can find FHA lenders on HUD's website or look for mortgage brokers, banks and credit unions that are approved to do FHA loans. Conventional lenders can also participate in down payment programs if they are approved by HUD. Using statelocalgov.net, choose your state and town to find housing agencies in your area. Obtaining a first mortgage and down payment assistance are two distinct processes that require separate applications. You can apply for both at the same time or initiate the process with either a lender or assistance program, first.