When homeowners face difficult financial situations, making a monthly mortgage payment can become cumbersome. There are many lenders willing to work with homeowners to come up with a resolution to past-due mortgage payments and help them avoid foreclosure. One of those options is negotiating with a lender on deferring a mortgage payment.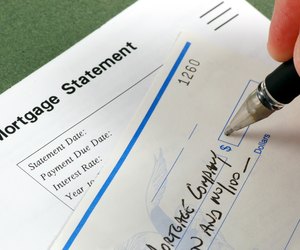 credit: Kenneth Mellott/iStock/GettyImages
Step
Contact your lender as soon as you know you are going to miss or be late on a mortgage payment. The sooner you take steps to correct the problem and communicate with your lender, the sooner you will know what your options are. Be prepared to speak with several different people at your mortgage company in regard to your situation.
Step
Speak with the loss mitigation department for your lender. Discuss your options and ask if a mortgage payment deferral will be a workable scenario. Many lenders will reduce or forgive late fees or extra charges in the event of job loss or medical problems. However, most lenders will only do this for a maximum of six months.
Step
Be prepared to prove hardship and ability to repay. Your lender will require a statement from you detailing your current hardship and inability to pay on a temporary basis. If your hardship will result in a longer delay of payment, it's wise to contact your lender and talk about selling your home or refinancing your payment using your home equity as collateral.
Step
Provide your lender with income statements, bank statements and documentation showing that you do not have an ability to pay a full mortgage payment currently. Also provide your mortgage company with a signed statement that gives them assurance you are working toward correcting your financial hardship situation quickly. This will result in a faster approval of a payment reduction plan or deferral.
Step
Communicate consistently with your mortgage company throughout the process. The better and faster you communicate to them any circumstances changing for the worse or better, the more willing they are to work with you. Making adjustments to your mortgage can be difficult; however, it is worth the effort if it results in being able to keep your home.