Bond investors use a number of calculated quantities to help evaluate the prices they are willing to pay for bonds. These calculations depend on a bond's interest rate, timing of cash flows, time until maturity and the prevailing rate of interest for similar bonds. DV01 is a measure of a bond's modified duration, which is the bond price's sensitivity to changes in market yields. It tells you how risky a bond is to changes in interest rates and, therefore, affects the bond's purchase price.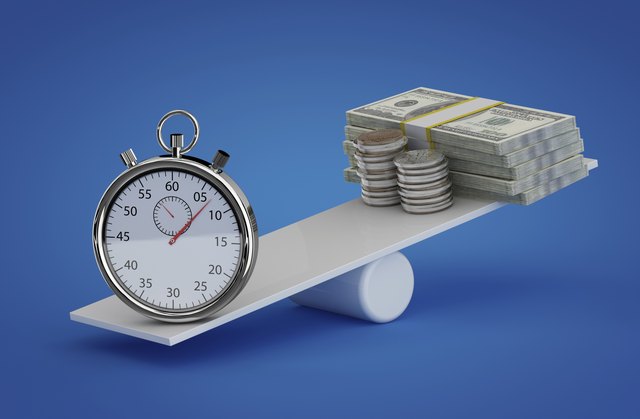 credit: nurulanga/iStock/Getty Images
Time Value of Money
Most bonds pay a fixed amount of interest at fixed intervals and pay back their face amounts at maturity. The yield-to-maturity is the interest rate -- known as a discount rate -- that sets the present value of the bond equal to its current price. Present value is the discounted sum of all the bond's cash flows and accounts for the time value of money: The longer you wait to receive money, the less it's worth to you today. The discount rate you use to compute present value is the prevailing yield for bonds with similar characteristics. The prevailing yield fluctuates due to various economic and political factors, such as inflation and recession.
Dollar Duration
A bond's dollar duration is its price change when prevailing interest rates change by 100 basis points, or 1 percentage point, expressed as a decimal. For fixed-rate bonds, dollar duration is inversely related to interest rates: It rises when interest rates fall and vice versa. To calculate dollar duration, divide a bond's price change by the negative of the interest rate change. For example, if a bond's price climbs from $100 to $107 when interest rates fall from 3 percent to 2 percent, the dollar duration is ($107 - $100) / -1 x (2.00 - 3.00), or $7.
Calculating DV01
DV01 is the dollar value of one basis point. You calculate it by dividing dollar duration by 100, because there are 100 basis points in one percentage point. In our example, the DV01 is $7 / 100, or $.07. In other words, you would expect the bond's price to change by 7 cents for each basis point change in prevailing interest rates. You can also calculate DV01 directly by multiplying the price change by .01. In this example, that's .01 x ($107 - $100), or $.07.
DV01 Limitations
Dollar duration and DV01 represent the negative of the slope of graph plotting price versus interest rate: (-1) x (change in price / change in rate). This is only a linear approximation of the instantaneous change, which requires calculus to solve. Unless the bond portfolio is very large, the effect of the approximation is negligible. Another limitation of DV01 is the assumption that the bond pays fixed interest at fixed intervals. A floating rate bond, zero coupon bond and other complex securities require sophisticated calculations to compute their durations.