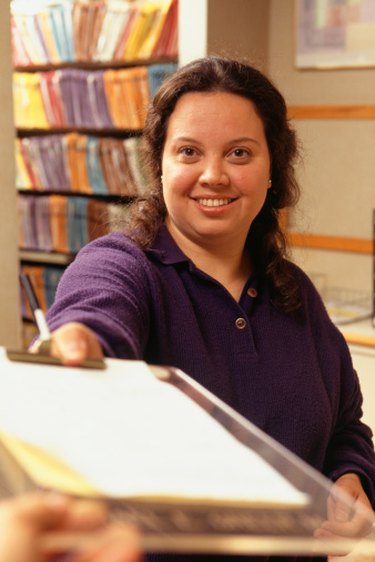 Low-income individuals and families may qualify for Medicaid benefits that cover such things as medical assistance, doctor's visits, prescription drugs, testing, physical therapy, hospital stays and even home health care services. To receive the medical services, however, you must meet Medicaid eligibility requirements set for the federal and state-funded assistance program. To determine if you or your family qualify for Medicaid insurance, get a Medicaid application for your specific state and ensure you meet all requirements.
Step 1
Meet specific income, disability or age requirements to qualify. Depending on your specific state's eligibility requirements, you may also be able to get a Medicaid application, if you have medical bills you can no longer afford.
Step 2
Qualify for Medicaid benefits without a separate application in some states if you also receive Supplemental Security Income, SSI. Some states, like Connecticut, Illinois, Ohio, Oklahoma, Virginia, Alaska, Idaho, Kansas, Nevada, Oregon and Utah, however, may require you to file for Medicaid separately. Check with the Centers for Medicare and Medicaid Services (see Resources) to determine if you need to get a Medicaid application, even if you currently receive SSI.
Step 3
Get a Medicaid application by calling, writing or visiting your state's department of social services or department of human services. To find your local social services department, consult your regional office (see Resources). You can also get a Medicaid application through your prenatal care assistance program, if you're pregnant. If you are a patient in a state facility, obtain it through the state mental health office.
Step 4
Complete an online application if you live in a state that offers the service. This way, the application will be submitted directly and will save you the postage and mailing time. Most states also offer a downloadable Medicaid application you can complete at home or in person to submit via mail or fax.
Step 5
Prepare for an interview to determine Medicaid eligibility. You will need documents verifying your age, citizenship and household income (paycheck stub, Social Security, veteran's benefits or retirement statements). Also document other health insurance plans and any other financial data that may affect your eligibility, including property ownership.
Tip
When completing an online Medicaid application, note that the session may "time out" if you leave your computer for more than 30 minutes, causing you to lose all your data. Thus, do not apply for Medicaid until you have sufficient time to complete the online form in one sitting.