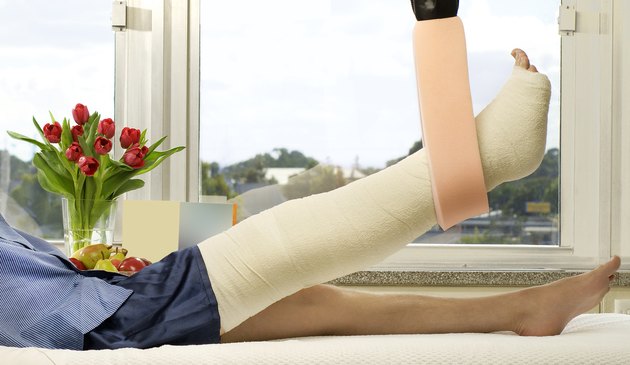 Aflac short-term disability insurance is an individual policy that allows workers to receive the cash they need to pay immediate expenses upon injury or illness until they are fit for work again. According to an Aflac pamphlet, roughly 3 in 10 people entering the workforce will experience a disability prior to their retirement. Being prepared for such events can ensure the financial stability of your household and peace of mind for the insured.
How it Works
Aflac's short-term disability insurance, called the Disability Income Protection Advantage, is not a health insurance plan and does not cover hospitalization or medical expenses. Instead, this plan is designed to help the beneficiary pay for outstanding bills that would otherwise go unpaid when not working due to an injury or illness. Cash goes directly to the insured party for every day they are out of work. The insured have the option to select a beneficiary to receive the cash award instead. If the insured leave their job, they can still opt to remain with Aflac's short-term disability plan.
Plan Benefits
Aflac's benefits are independent of other benefits. You will always be paid directly regardless of the requirements of any other disability insurance providers, including Social Security. This plan covers on-the-job and off-the-job injuries, as well as personal illnesses. Pregnancy is also covered by Aflac for six weeks for non-cesarean childbirths and eight weeks for cesarean. As long as the policy holder pays the monthly premium, the plan will remain active until you reach the policy anniversary date following your 70th birthday. The monthly benefit depends on your income and can range from $500 to $5,000.
Coverage Limitations
Disability or re-injury caused by a pre-existing condition will not be covered unless it occurs after 12 months from the effective date. Aflac will not pay for disabilities incurred outside of the territorial U.S. or that occur as a result of illegal activity, self-inflicted harm, mental conditions, elective surgical procedures, exposure to or acts of war, or organ donations if you donate your organs before the policy's one-year anniversary date. Total disability benefits cease upon the earlier of either being released by your physician for full-time work or resuming your employment. Partial disability benefits cease upon release by your physician for full-time work or resuming work that results in 80 percent of your pre-disability base pay earnings.
Cost Quotes and Enrollment
To receive a quote and inquire about enrollment, click the "Individuals" tab on the Aflac home page and type your information into the "Get an Aflac Quote" box. If you would rather speak directly to an agent, click on "Find an Agent" on the gray bottom menu and type in your ZIP code or dial 800-99-AFLAC. As with other health and disability insurance programs, if an agent discovers you meet the qualifications, your quoted price will be determined by your general health and current income.