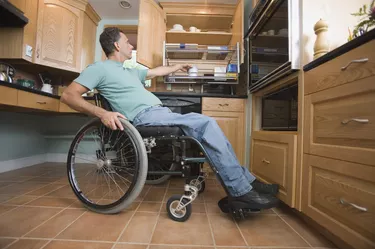 The federal government has established programs to provide financial assistance to individuals in need. Two of the most common programs offered by the government and administered by the states are the unemployment insurance and disability insurance programs. Although both programs are aimed to help former workers, major differences exist between the two programs. Unemployment insurance benefits are for eligible workers who've experienced a job loss, and disability benefits are for workers who can no longer work in their old positions because of a medical condition.
What is Unemployment Insurance?
The federal government established the unemployment insurance program to provide temporary cash benefits to workers who experienced a separation from employment through no fault of their own. Most state governments require employers to pay unemployment taxes. State programs administer the federal unemployment insurance program. However, state programs must follow the general guidelines established by the federal government. The total amount and length of time benefits are received by qualified workers varies per state. Typically, benefits are determined by the amount of wages earned by workers during a 52-week period.
Unemployment Eligibility
The specific eligibility requirements to receive unemployment benefits vary per state. In most states, in order to receive unemployment benefits, an employee must experience a job separation because of a lack of work. Misconduct or breaking company policies disqualifies you from receiving benefits, unless it's due to extenuating circumstances. To receive unemployment benefits, you must file an unemployment insurance claim immediately after separating from your job. After undergoing an interview with a claims representative at your state's unemployment office, a determination is made whether you are eligible to receive benefits. You must remain available for work to continue receiving benefits.
Social Security Disability Insurance
The Social Security Administration provides cash benefits to workers who suffer a disability expected to last longer than one year. Workers must suffer from a medical condition approved by the Social Security Administration and meet work requirements to receive benefits. The process to receive benefits is lengthy, so workers are encouraged to apply for disability benefits as soon as they suffer a disability. Eligible disabled workers receive monthly payments. In some cases, your family can also receive benefits once you're approved.
Disability Eligibility
To meet eligibility requirements, you must suffer from a disability that prevents you from performing basic functions, such as walking or sitting for long periods of time. Each state contains a list of medical conditions they deem severe enough for you to automatically qualify for benefits. The ability to work on jobs other than your previous job does not automatically disqualify you from receiving benefits. However, you cannot earn more the amount established by the Social Security Administration. As of 2011, the maximum income is $1,000 per month for non-blind, disabled workers, $1,640 per month for blind, disabled workers and $720 for individuals participating in the trial work period. The trial work period is a nine-month period that allows disabled workers to test their ability to go back to work.