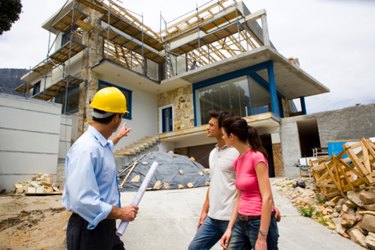 Obtaining a home loan backed by the Federal Housing Administration (FHA) for new construction is similar to qualifying for a conventional loan; however, the process does include a few unique requirements. In addition to a minimum down payment, required mortgage insurance and maximum mortgage amount, FHA new construction guidelines must be followed carefully. The following information will help you find an experienced loan officer and complete the paperwork necessary to secure your FHA financing.
Step 1
Find an approved lender. To obtain an FHA mortgage of any kind, you must contact a lender that is approved by the Department of Housing and Urban Development (HUD) to originate FHA loans. Tell your Realtor you want to apply for an FHA mortgage. She will refer you to an approved lender. Verify that the mortgage company specializes in FHA financing.
Step 2
Obtain a down payment. To qualify for a new construction FHA loan, you need a down payment of at least 10 percent of the purchase price. These funds can come from your checking account, savings, gifts from family or a down payment assistance program. As soon as you obtain funds, deposit them into your checking or savings account. FHA underwriters usually require a paper trail such as gift letters and down payment assistance paperwork. Provide your loan officer copies of your down payment documents when you meet to complete your application.
Step 3
Know your loan limits. Although FHA- insured home loans are relatively easy to obtain, there are limits as to how much you can borrow. Loan maximums vary county to county. Visit the HUD/FHA loan limit page on the HUD website (see Resources). The calculator will help you determine the mortgage limits in your area.
Step 4
Gather all of your personal documents: 2 weeks' worth of pay stubs, bank statements, debt statements, copies of your W-2s for the last 2 years or tax returns if you are self-employed and your Contract for Purchase.
Step 5
Meet with your loan officer and complete an FHA mortgage application, which includes a few additional documents than a conventional home loan application. You may also be required to pay an application fee that covers the cost of your credit report and home appraisal. FHA appraisals usually fall into the $350 to $500 range, depending on the type of property you are building and the appraiser's fee.
Step 6
Schedule an appraisal. Make sure your lender uses an FHA-approved appraiser. Because your home is not yet complete, your lender must furnish your appraiser with the correct documents for the proper inspection to be done to support the sales price, including your builder's blueprint and building permit applications. An FHA underwriter may also want to see a plot map, electrical layout and a detailed description of the materials your contractor will use to build you house.
Step 7
Close on your house. After your appraisal has been completed, the underwriting process will resume. Assuming you have satisfied all conditions, a clear-to-close will be issued, and a closing date will be scheduled by your Realtor. Before closing, FHA may require a final inspection of your house to ensure the property is ready for occupancy. At closing, you will be walked through and be required to sign a FHA closing package. Funds from your lender will then be wired to the title company, your builder (the seller) will receive his funds, you will be given the keys to your newly built home and your mortgage will be prepared for recording. Your first payment will be due in 1 or 2 months, depending on which day of the month you close.
Tip
Be available during underwriting. FHA underwriters can be quite picky as to what they need to prove your income and clear underwriting conditions. Keep all of your personal and property-related information handy and ready to give to your loan officer upon request until you close on your home.
Always work with a loan officer with at least 2 years of FHA and new construction origination experiencing. FHA and new construction loans are not ideal for new originators to cut their teeth on.
Buy your insurance from a reputable homeowner's insurance representative. Your loan officer or Realtor can refer you to a good company if you don't already have one.
Warning
Do not obtain new credit during your underwriting process. Some FHA underwriters will pull an additional credit report on you before closing, and any new accounts could negatively affect your debt-to-income ratio, resulting in a loan denial.
Things You'll Need
Proposed-construction appraisal

Personal financial documentation

Contract to purchase

Proof of down payment funds