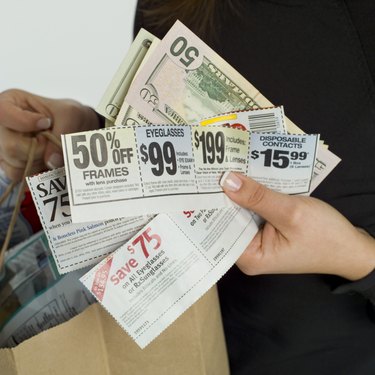 There are multiple sources of grocery coupons online, including manufacturer's sites, downloadable coupon services, retailers and reward programs. As you search for coupons, you can learn more about couponing at one of the many coupon blogs. Experienced bloggers can show you how to increase your coupon savings and save your family money.
Manufacturer Websites
Many grocery manufacturers offer coupons on their websites. In some cases you can download coupons through the website online, or the manufacturers will mail you a physical coupon if you request one via an online form. Keep your eye out for free sample offers. In addition to sending you a free product sample, many manufacturers also include a high-value coupon.
Online Coupon Websites
Several websites provide downloadable coupons. These sites often have a robust search engine to search by brand or category. You'll need a printer to access many of these coupons. However, some sites allow you to load a coupon directly onto your grocery store's loyalty card. Popular online coupon sites include:
If you're interested in natural and organic foods, check out Mambo Sprouts. This resource publishes a physical coupon booklet for many natural food brands and offers downloadable coupons on its website. The coupon booklet is in high demand; order it through the Mambo Sprouts website, or pick it up while supplies last at local health food and organic grocery stores.
Couponing Blogs
While couponing and frugal lifestyle blogs don't always provide coupons, they can point you to good coupons online. Some bloggers are adept at spotting sales and in-store coupons that can be combined with manufacturer's coupons for huge savings. Try these:
WildforCVS: If you live near a CVS, this blog is a must-read. The blog writer follows CVS's sales and promotions and shows you how to stack offers to get the best deals on groceries and household goods.
The Krazy Coupon Lady: Great updates on online and offline coupons as well as in-store specials and sales.
A Full Cup: If you are new to couponing, this site is for you. In addition to pointing out coupon offers, it also provides couponing education.
Reward Programs
Some online reward point programs, such as Swagbucks and MyPoints, offer downloadable coupons with a twist. When you use coupons downloaded from these sites, you earn points you can later apply toward gift cards or other rewards. Check the terms of use on these sites. Sometimes it can take several weeks or even months before you get credit for coupon use.
Retailer Sites
Some grocery stores and other retailers have printable coupons on their websites. If the store has a loyalty program, you can often load the coupon onto your loyalty club card and get the savings automatically on your next shopping trip. The website or sales flyer might also notify you when you can stack your coupon with a sale, saving you even more money.