If you have been investing in stocks for less than 20 years, you may not realize how much stock market prices fluctuated prior to 1990. Thus, you may find it interesting to look back at the historical movements of the Dow Jones Industrial Average even before the Great Depression. You can view these prices online in both number form and chart form. Keep in mind this can be a useful learning tool but not a predictor of future developments.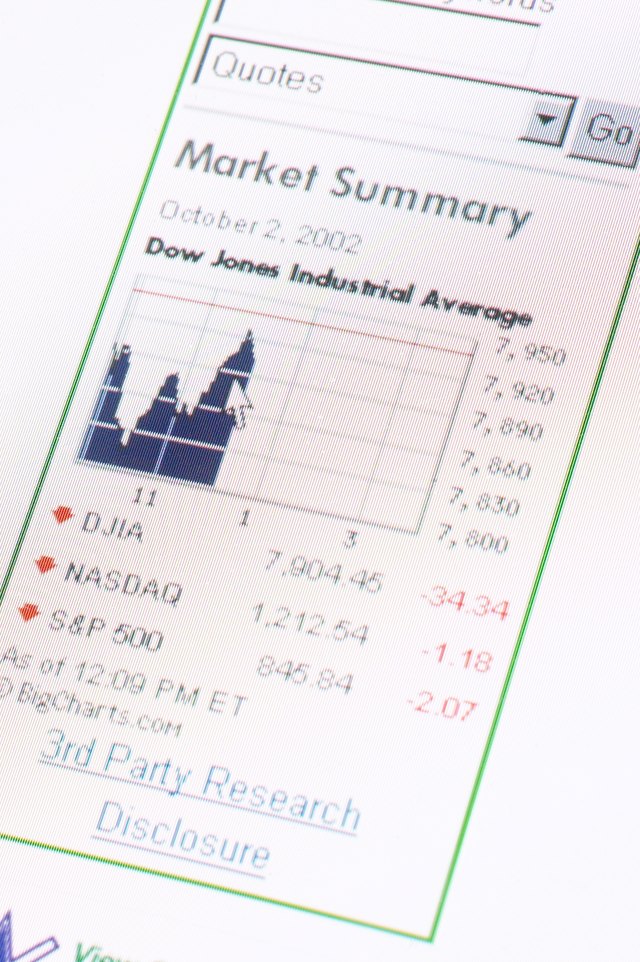 Step
Access Yahoo! Finance (see Resources). Enter the date you want to check. For example, if you enter 03/04/1965, you will see that on March 4, 1967, the Dow Jones Industrial Average was 846.60. Notice that Yahoo! Finance offers a range of dates so if you pick a wide range of dates for Dow Jones historical pricing, click on "last" to get to the first day of your range. If you are familiar with using a financial calculator, you can use the Time Value of Money feature to determine the annualized rate of return between a date in the past and today's Dow Jones Stock Market price.
Step
Access the StockCharts website if you prefer to see the Dow Jones historical pricing in chart form (see Resources). You will see a more visual representation of stock market price changes over the past century, particularly the enormous dip that occured during the Great Depression. Also, notice the major downward volatility in 1973-1974 and the crash in 1987. Again, in no way should you use chart to predict the future but it can certainly provide you a quick history lesson. When you see volatile periods, both good and bad, you may find it interesting to research the news headlines of those years.
Step
Use these same websites for other historical information, such as historical individual stock prices. For example, on the Yahoo website, if you change the symbol to KO and enter the date 6/7/2000, you will see that Coca-Cola stock was priced at $53 per share at close of business on June 7, 2000. It will also show you a price adjusted for dividends and splits. While still on the same Yahoo page, click on "Basic Chart" on the left-hand side to see a chart of Coca-Cola stock. You can adjust the chart from one day to beyond five years.
Step
Use the historical information to make yourself a well-informed stock investor. This will, in turn, make you a more confident investor.