Things You'll Need
Financial Calculator

Credit Counseling Services

Credit Reports

Secured Credit Cards
Tip
When you have a friend or relative co-sign on a loan or credit card, remember that that person's credit will be affected by the payment history as well. Credit-repair clinics and consumer credit agencies arrange repayment plans and restructure payments to fit your budget. But even if the creditor agrees to the plan, smaller payments and skipped payments can still be reported against you. Some credit-repair clinics charge up to $2,000 up front to get the paperwork started and cover administrative fees. Some CCAs are free. You can call the creditors yourself and make these same arrangements for free.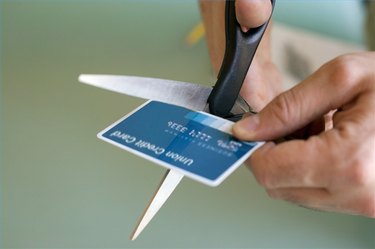 How to Repair a Bad Credit History. No matter how bad your credit is, you can take steps that will make it better.
Step 1
Pay all of your bills on time. Late payments (payments that are 30 days late or more) have a negative effect on your credit rating.
Step 2
Reduce the number of credit cards you carry. Write to your creditors to request that they close your accounts and report this status change to all three credit-reporting agencies.
Step 3
Avoid bankruptcies, tax liens (a lien for not paying state or federal income taxes or property taxes) and collections. A bankruptcy stays on your credit report for up to 10 years. Collection accounts and paid tax liens stay on for seven years, and unpaid tax liens will haunt you forever.
Step 4
Request in writing that your creditors reduce the credit limits on your accounts to lower your amount of available credit. The total amount of available credit is considered by lenders even if you owe nothing.
Step 5
Ask a family member or friend to co-sign on a small loan or credit card to help you re-establish credit. Make your payments on time.
Step 6
Get a secured credit card to help reestablish your credit. You will have to keep a designated amount of money in an account that will be sufficient to cover your charges. Make payments on time.
Step 7
Get a yearly copy of your credit report to catch any errors.