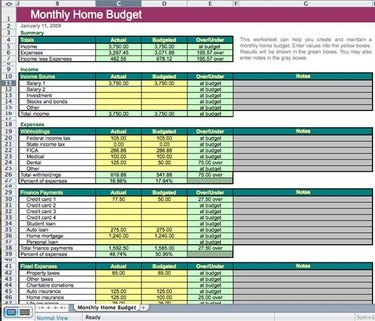 A budget is one of the most important tools needed to build a solid financial foundation. Microsoft's Excel software provides an easy to use and convenient system for managing a budget. With its extensive calculating, sorting and filtering features, the Excel spreadsheet format provides a simple way of streamlining your budgeting process. In just a few steps, you can create a budget in Microsoft Excel and better maintain your finances by securely managing the flow of your income and expenses.
Step 1
Go online to the official download website for Microsoft Office.
Step 2
Scroll down the page to the "Browse Templates" section. Click "Budgets."
Step 3
On the left column of the site, navigate to the "Filter by Product" section. Select "Excel" from the drop-down menu.
Step 4
Browse the available budget templates. Choose a template with a layout and design that suits your budgeting needs.
Step 5
Click the link for your selected budget template and click the "Download" button. Once you accept the Microsoft Service Agreement, your template will begin downloading.
Step 6
Open your downloaded template in Microsoft Excel. Customize the colors, fonts, margins and content to your budgeting and financial requirements.
Tip
Use the "Ratings" and "Downloads" tabs at the top of the template gallery to help you sort through the wide number of templates available. These sorting filters will help you to quickly find the highest reviewed and most widely used templates.
Keeping a simple but up-to-date budget in Excel is one of the best ways to manage your personal or business finances. You will always have a clear snapshot of your current financial situation by maintaining an easy to use budget.