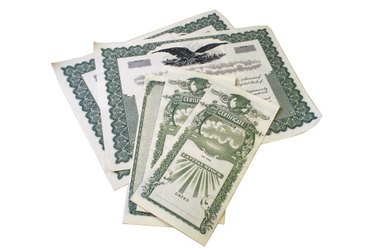 United States Series EE Savings Bonds are a popular gift for special occasions, available for purchase in person for half the maturity value or online for the full maturity value. Either way, you cannot tell the current value of a U.S. Series EE Savings Bond purchased prior to May 1, 2005 simply looking. You must either take the bond to a bank for a calculation or follow a few simple steps online to find out for yourself.
Step 1
Access the TreasuryDirect Savings Bond Calculator at treasurydirect.gov.
Step 2
Enter the denomination, bond serial number and issue date (in mm/yyyy format) as all appear on your savings bond.
Step 3
Press "Calculate" to see the current value. Change the date in "Value as of:" field using the same format to see the value at other dates in the near future.
Step 4
Follow the instructions to save the savings bond info for the next time you visit the site.
Tip
U.S. Series EE Savings Bonds purchased between May 1997 and April 30, 2005 pay interest which varies based on five-year treasury security yields.
Warning
U.S. Series EE Savings Bonds redeemed within five years of issue forfeit the most recent three-month interest. The serial number and issue date are necessary inputs to the savings bond calculator.