If your home needs work and you don't have the resources to tackle it, a home improvement loan can help limit your out-of-pocket expenses. Home improvement financing can fund anything from small cosmetic projects to large-scale renovations and construction, and there's an added tax benefit. Because it's a type of mortgage loan, you can deduct the interest at tax time. As always, it's best to consult a tax adviser to make sure you're doing it right.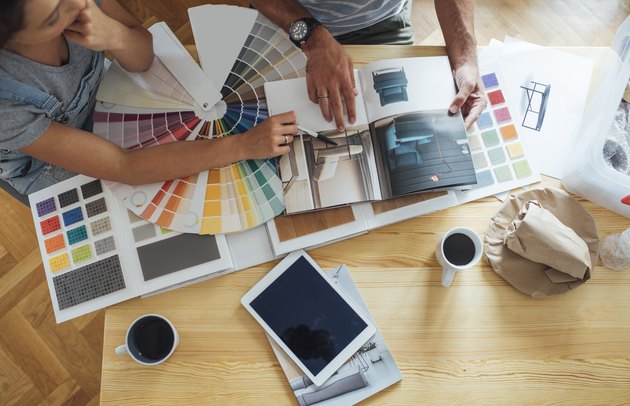 Sources of Home Improvement Financing
You can get a home improvement loan through a bank, credit union, savings and loan, thrift, or mortgage broker. The range and availability of home improvement loan programs varies, depending on the lender's proprietary loan products. Lenders may finance home improvements through home equity lines of credit — called HELOCs — or home equity loans, as well. Mortgage brokers, which tend to have access to a large variety of loans, may offer home improvement loans backed by an agency of the federal government, such as the Federal Housing Administration. Brokers also can offer home improvement loans from big banks, including HELOCs and home equity loans.
Serving Specific Homeowners
Lenders may target minorities, the elderly or the disabled, for home improvement loans. For example, FHA-insured home improvement loans under the Section 184 Indian Home Loan Guarantee Program aim to help Native Americans and Alaskan natives. The Department of Agriculture offers home improvement loans to rural residents. The USDA makes it easier for low- and moderate-income borrowers to repair farms and rural homes when they can't obtain loans through traditional mortgage lenders. Loans that are not federally backed, such as HELOCs, equity loans and renovation loans, can help homeowners who want to upgrade or add onto their home, or completely gut a home and rebuild from the ground up.
Meeting Specific Property Needs
Home improvement loans can be used for a variety of projects. Need-based loans don't allow luxury improvements, such as a spa or swimming pool addition. They can finance projects that improve functionality, such as room additions and handicap accessibility. They also can repair, improve or modernize homes to remove health and safety hazards. Department of Housing and Urban Development programs, including the FHA's 203(k) rehabilitation loan and the Energy Efficient Mortgage, have such limitations. To cover a broader range of home improvement needs, mortgage lenders offer loans in the form of cash-out refinance loans, another type of equity-based loan that involves a lump sum of cash at closing to use as you please for home improvement. Homeowners can refinish a basement or attic, add living or guest space, and customize a home to simply better suit their taste and lifestyle.
Home Improvement Loan Requirements
Lenders have borrower and property eligibility requirements for home improvements loans. For example, you must demonstrate low or very low income for some need-based, federally backed loans. In private sector loans, you must prove to a mortgage lender that you can afford the increased monthly payment that comes with a HELOC, home equity loan, cash-out refinance or regular home improvement loan. You tap into your home's equity to improve your house, so the lender may require an appraisal to ensure that proposed improvements will increase your home's value. Typically, HELOCs, equity loans and home improvements loans from banks place fewer restrictions on home improvement projects than do federally backed programs.