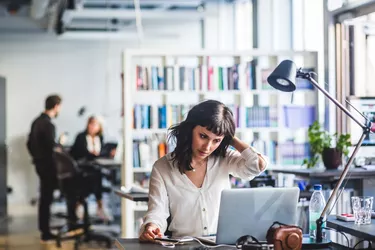 Whether you're writing or receiving a check, there's a process where the check moves between the financial institutions of the payer and recipient. This includes checking that the check writer has available funds to cover the deposited check amount before proceeding with finalizing the transfer between accounts. A cleared check is one that has successfully completed the process. Take a look at some FAQs about check clearing to know what to expect when using checks.
What Does It Mean When a Check Is Cleared?
A check has cleared once the amount of the check has been debited from the check writer's bank account and credited to the check recipient's account. Therefore, after the payee made the check deposit, the funds were successfully moved both ways between the associated banks through the clearing system.
Cashing vs. Clearing a Check: What's the Difference?
The Federal Deposit Insurance Corporation (FDIC) clarifies that cashing a check means you'll exchange the check for cash versus depositing it into an account. You might do this at a bank where you're an account holder or use a check-cashing service. A cleared check has completed the processing cycle where the check writer's account is debited and the depositor's account credited for the check amount.
How Does the Check-Clearing Process Work?
According to GoCardless, the check-clearing process begins when you deposit a check to your savings or checking account. Your bank or credit union periodically sends batches of deposit information – typically check images – to a clearinghouse, such as the regional Federal Reserve bank. This entity serves as an intermediary between your bank and the payer's.
As long as the check is valid and the payer's account has sufficient funds or overdraft protection, your bank account should get credited, and the payer's account should get debited for the check amount. Your account balance would then increase while the payer's would decrease. Otherwise, the check gets returned if there's a problem.
How Long Does It Usually Take for a Check to Clear?
The Federal Reserve notes it usually takes up to ‌two‌ ‌business days‌ for business and personal checks to clear. However, your bank's policies may allow for faster clearing times. Plus, certain circumstances can slow down clearing.
You can also experience a hold time on your deposited check funds due to your bank's funds availability policy. The Office of the Comptroller of the Currency explains you should get the first ‌$225‌ the next business day and the remainder either the following business day or no later than ‌five‌ ‌business days‌ later.
What Type of Checks Clear Faster?
According to Chase, your check may clear within ‌one business day‌ if it's a cashier's check, certified check or government check. A money order can also clear by the next business day. In addition, clearing happens faster when the check writer has an account at your bank or credit union.
What Prevents or Delays a Check From Clearing?
The Consumer Financial Protection Bureau cautions that your check can have a longer clearing time if the bank feels there's some risk present. For example, the check could be for a large amount (‌$5,000+‌) or written from an account that often has insufficient funds. Delays can also happen if your account is new, your check needed to be redeposited or you use a third-party ATM.
How Do I Know If a Check Cleared or Not?
You can use your online banking to determine if the check cleared. You should see the check appearing in your recently completed transactions and reflected in your current account balance. For example, the check writer's account would show the check as a finalized debit transaction that lowers their balance. You can also call your financial institution to check as well as see cleared checks on your bank statement.
What Happens if a Check Doesn't Clear?
If you write a bounced check and lack overdraft protection, you can end up paying a nonsufficient funds (NSF) fee to the bank and possibly a merchant fee. The bank may report the issue to ChexSystems or even close your account if it's a frequent occurrence. If you're the depositor, the check deposit amount will be removed, and you can end up with an NSF fee if you spend the money, warns the OCC.
What Happens to Cleared Checks?
Your bank considers cleared checks to be canceled checks since the transaction has completed. The OCC says your financial institution may store these checks for ‌five years‌ or return them to you. You may also request copies or see cleared check images on your online banking site.