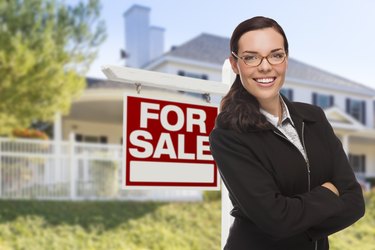 A real estate investor's ideal situation is earning cash on an investment appropriate to the risk he's taking, while minimizing the time he's committed to the property. An investor might accomplish these goals by participating in the real estate market via a real estate investment company. The REIC provides investors opportunities to pool their money to make real estate investments. As Brad Thomas writes in a Forbes article, demand for a yield-producing REIT which might invest in hotels, prisons or data centers increases when other investment returns are low.
REIC Objectives
A real estate investment company acquires investment properties on behalf of third-party investors. In most cases, an REIC invests in commercial grade real estate, such as office buildings, apartment complexes, hotels and industrial sites. But some REICs focus on a market niche, such as malls or medical buildings.
REIC Investment Funding
The capital that a real estate investment company invests in a property comes from a variety of sources, including insurance companies, pensions, wealthy individuals, and private equity funds. The REIC may also invest its own capital, or obtain funds through real estate investment trusts. An REIC might manage from $1 million to tens of billions of dollars.
Real Estate Investment Company Fund
Typically, investors commit capital to an REIC fund, from which REIC management draws money to invest in different properties as the company sees fit. As an alternative, the REIC may establish a fund for purposes of collecting capital for a particular project. This allows the investors and the company to perform more due diligence that contributes to more informed investing. The REIC may also create a closed club investment fund involving the members of an investment club who share similar objectives.
REIC Crowdfunding
It's also possible to invest with a real estate investment company through a crowdfunding platform. The platform allows small investors and large investors alike to purchase shares of a real estate property made available by a real estate investment company. For example, Fundrise provides investors an opportunities to invest in 3 World Trade Center in New York City. Through crowdfunding, investors can buy shares in apartment buildings, retail centers and more.