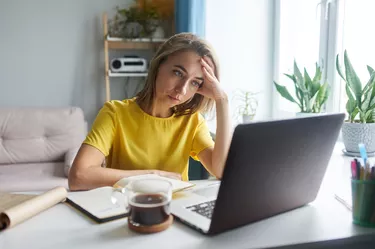 While checks are a popular form of payment alongside credit cards and debit cards, they do come with the risk that the check won't ultimately get paid out to the recipient. Therefore, you could end up being the writer or recipient of a dishonored check. This often occurs when a financial institution returns the check due to the check writer's account lacking sufficient funds. Understanding the following information will help you understand reasons for dishonored checks and the potential consequences.
Dishonored Check Definition and Causes
According to the California Department of General Services, a dishonored check is one that gets rejected as unpaid after the recipient has tried to deposit it at their bank. This can occur immediately, or the bank may try one more time to see if the check can be cashed. In the end, the payee has the dishonored check returned and doesn't get the money they're due.
A dishonored check from insufficient funds can happen if you fail to track your transactions and your balance gets too low by the time the recipient cashes the check. If you have overdraft protection, you could avoid having the check become dishonored. In other situations, your check may be dishonored if you didn't properly sign it or didn't notice an error in the account number. You might also have issued a stop payment order.
The Minnesota Legislature explains a dishonored check can also result from fraud. For example, you might purposely write a check to pay a bill knowing your account doesn't have the money. This could also happen with a post-dated check written for fraudulent purposes. You could have also made a counterfeit check or one drawn from a nonexistent account.
Example of a Dishonored Check
Say you write a $1,000 check to Company A and send it in the mail. At the time of writing, you had sufficient funds in your bank account to cover the amount of the check. However, other checks and debit card transactions go through that lower your account balance to $750. You don't have any overdraft protection.
When Company A tries to deposit your check, its bank ultimately returns the check to Company A since your bank account lacks sufficient funds. Your bank then notifies you that the check is dishonored. Both the bank and Company A charge you a fee for the dishonored check, and you now have to make other arrangements to pay Company A.
Consequences of Dishonored Checks
The most common penalty is the nonsufficient funds (NSF) fee your bank charges you for each dishonored check. The check's recipient, often a merchant, may also charge you a dishonored check fee at a flat rate or based on the check amount, explains Fiserv. If your account remains with insufficient funds, you can face accumulating fees as more payments get rejected. The Federal Deposit Insurance Corporation explains overdraft protection can help minimize such service charges.
The California Office of the Attorney General warns that fraudulent checks can result in criminal prosecution and legal actions. The check's recipient can send a letter demanding the money and ultimately sue the check writer for multiple times the check's amount. Additional fines and even jail time can result if there's proof of fraud, notes the Minnesota Legislature.
Dishonored checks can also cause frustrations in the future. For example, ChexSystems lists reported NSF activities on your report for ​five years​, and future financial institutions may feel reluctant letting you open accounts. Having multiple bounced checks could harm your ability to pay merchants with this method due to TeleCheck. There's also the risk of credit score damage from unpaid bills like credit card payments.
Here are some answers to frequently asked questions about dishonored checks.
Why Would a Check Be Dishonored?
The most common reason for a check being dishonored is the check writer not having enough money in their bank account to cover it. Other reasons could include a stop payment order request, issues with the check's information or a closed bank account.
What Do I Do With Dishonored Checks?
If you write a dishonored check, you'll need to pay any applicable fees as well as contact the recipient to make payment arrangements. If you're the recipient, contact the check writer about the issue and possibly seek help from law enforcement if you suspect check fraud.
What Is the Average Fee for a Dishonored Check?
The Consumer Financial Protection Bureau says the average NSF fee is ​$34​. However, some banks like Fifth Third and Bank of America either have or plan to eliminate this charge. Note the NSF fee is in addition to any merchant charge for a bad check.