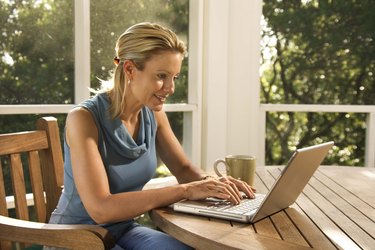 Kohl's offers customers a Kohl's Charge credit card issued through Capital One Bank. As of publication, customers who purchase $600 or more in Kohl's merchandise a year on their Kohl's Charge reach Most Valued Customer status and are entitled to 18 exclusive discounts per year. The Kohl's Charge offers all cardholders at least 12 discounts of 15 percent to 30 percent each year.
Qualify for a Kohl's Charge
Verify that you meet the minimum qualifications for a Kohl's Charge card before you begin the application process. According to the Kohl's website, applicants must have valid photo identification and already own a major credit card. To qualify in most states, you must be 18 years old. In Alabama and Nebraska, however, you must be 19 years old.
Apply Online
You must be a resident of the U.S. to use the online application. Go to the online application on the Kohl's website. Enter the application by selecting the "Apply Now" button. You will receive the Kohl's account opening disclosures, card member agreement and credit card privacy policy electronically when applying online. If you are responding with a personal offer code you received in the mail, you can enter this at the beginning of the application process. Otherwise, leave this space blank and select "Continue." Fill in all the required fields with your information, including checking the box to sign up for sale alerts if you want an email to get 15 percent off your next purchase. To submit the application, you must agree to the terms and conditions. Credit decisions can take as little as 60 seconds.
Apply by Mail
If you prefer to apply by mail or cannot apply online, print the Quick Credit Application form. You must complete the application with your personal details and mail it to the address listed on the form. You can also request the application by calling Kohl's customer service department at 800-564-5740.
Apply In Store
Use the Kohl's Store Locator to find the nearest Kohl's retail store. You can apply in the store and, upon approval, receive a discount on your first transaction. As of March 2015, Kohl's offers 20 percent off your purchase upon approval. The actual card will be mailed to you but you can use the account in store in the meantime. Tell a Kohl's associate that you would like to apply for the Kohl's Charge and complete the brief application on the spot.