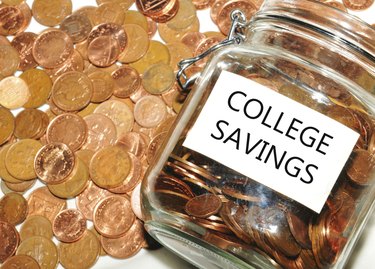 Choosing how to set money aside for future tuition bills involves comparing qualified savings plans, or 529s, against other investment options. A 529 savings plan can cover education expenses or just pay for tuition in advance. In addition to tax benefits on the state and federal level, most of these college savings options have generous contribution ceilings that reflect the high cost of a college degree.
College Savings Plans
The maximum you can contribute to a 529 college savings plan varies by state. Thirteen states do not limit lifetime contribution: Alabama, Arizona, Florida, Illinois, Kentucky, Maryland, Massachusetts, Mississippi, Nebraska, Nevada, South Carolina, Texas, and Virginia. Michigan, a pioneer of 529 plans, had the lowest contribution ceiling, $67,946, as of 2014; Pennsylvania's $452,210 maximum contribution ranked highest. The median contribution cap for all 529 college savings plans in 2014 was $235,000.
Pre-paid Tuition Plans
The maximum contribution for 529 prepaid tuition plans ranged from $50,000 to $100,000 among the 12 states that offered them in 2014. The Private College 529 prepaid plan, sponsored by the nonprofit Tuition Plan Consortium, bases its maximum contribution on five years of tuition charged by the most expensive of its nearly 300 member schools. In 2013 the cap stood at $231,350.