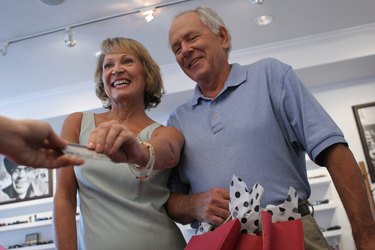 Macy's, the department store immortalized in "Miracle on 34th Street," offers its customers two different credit cards. The Macy's store credit card is only good for purchases made in Macy's store. The Macy's American Express credit card is good at any retailer that accepts American Express. You can apply for the Macy's American Express card in store only, and the store card online and in person.
Find a Macy's Store
You can find the nearest Macy's store through the store search feature on the Macy's website. Any cashier or customer service desk can take your application and enter your information into the store computer system.
Follow the Link
From the Macy's home page at macys, click on "Macy's Credit Card" link at the bottom of the page. The Macy's credit card page has a link to "apply now" that takes you to the online application. Macy's provides instant approval as long as you meet certain credit requirements. Otherwise, Macy's will notify you by mail within 30 days whether it approves or denies your application.
Just the Facts
Both applications ask for your full name, date of birth, address, phone number, Social Security number, email address and mother's maiden name. It also asks for your annual income, monthly mortgage or rent amount and whether you own, rent or have other living arrangements. Macy's also wants the number and type of another credit card you own so it can verify your identity.
Upgrade to Macy's American Express
If you already have the Macy's store credit card, you can apply to upgrade to the Macy's American Express card through the credit customer service line at 1-877-493-9207. You can also apply to upgrade through Macy's Live Chat program. You need an online Macy's account to use the chat program. You can create an online account at any time on macys.com.
Card Benefits
If you open a card in person, you'll receive 15 percent off your purchases that day and the next. If you open the Macy's store card online, Macy's gives you 20 percent off that day and the next up to $100 in savings. All new card members start at the Preferred level. You reach Elite status if you spend $500 to $999 in a year and Premier Elite if you spend $1,000 a year. Additional benefits include special cardholder coupons and savings events and Thanks for Sharing awards, where you pay a $25 fee to get 10 percent off all purchases for a certain amount of time. Elite and Premier Elite members get additional savings passes, birthday coupons, free shipping offers and a dedicated customer service line.