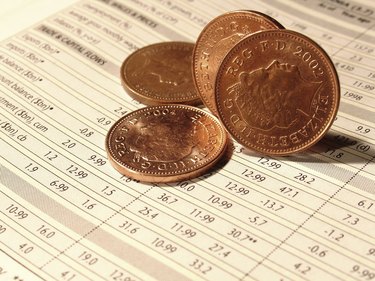 Penny stocks offer a risk/reward ratio that is similar to buying a lottery ticket, with low initial investments that may generate substantial returns or be rendered worthless. Because of their speculative nature, brokers are prohibited from recommending them, which means investors interested in buying shares of companies in this category must do their own work.
Three Steps to Buying Penny Stocks
Penny shares are considered to be in the highest risk category for stock investing, with a level of speculation that prompted Congress to pass laws against brokers making buy or sell recommendations on these securities. Brokers are further discouraged from being involved with customer purchases of penny stocks with burdensome levels of paperwork and record-keeping. With no help from financial advisers, the responsibility of finding penny stocks, evaluating their risks, and finding a cost-effective brokerage is placed directly on the shoulders of individual investors.
Finding Penny Stocks
Penny stocks can be found on any of the major exchanges, but the majority of them are quoted and trade on two separate over-the-counter systems; the OTC Bulletin Board and OTC Link, formerly known as the Pink Sheets. Because of the financial condition of the companies that trade on these markets, finding penny stocks is a relatively easy task, but there is a significant difference between these markets in terms of the disclosure of information. Penny stocks that trade on the OTCBB are required to report earnings and material events under similar regulations as companies trading on the major exchanges, while there are no reporting requirements for OTC Link companies.
Evaluating the Risk of Penny Stocks
In addition to carrying the same risks as investing in blue chip stocks, buying penny stocks presents the additional risk of potential price manipulation, also known as "pumping and dumping," because of weaker regulations on over-the-counter markets. Penny stocks that trade infrequently and with low volume are the most susceptible to manipulation, as illiquid share prices can be influenced with small amounts of activity. The risk of manipulation tends to decrease with stocks that consistently trade with higher volumes due to their increased liquidity, which can moderate the degree of share price volatility.
Finding a Broker
With SEC rules prohibiting traditional brokerages from soliciting orders on penny stocks to their customers, buy and sell orders placed through a broker may be charged a standard stock commission absent of any advice. As an alternative there are several online brokers that charge, as of March 2015, fixed commissions of $10 or less for penny stock trades. This list includes Charles Schwab, TD Ameritrade, and ChoiceTrade. Some online brokers offer promotions that include free trading for a finite period with a minimum initial deposit. For example, TD Ameritrade offers 60 days of free trading when a new account is opened with at least $2,000.