The most wonderful thing about growing up with a yiayia (grandmother) that lived in a small village in Greece, is growing up learning how to cook (and eat) the most delicious, simple recipes. Even though she now lives in inner city Melbourne, Australia, my yiayia still cooks with things she grows herself. Obviously, living in New York City I never had the pleasure of growing a lush vegetable garden such a hers; but many of her recipes like the hearty bean dish "fasolakia" nourished me through the most, let's say, frugal days of my freelance, big city career. Made of cheap, fresh ingredients, fasolakia is super filling, super good for you, and any old dumb dumb with a hot plate and a pot or pan (you only need one!) can make it. Here's how.
Prepare your ingredients
About a pound of green beans, chopped into bite sized bits.

A couple of potatoes chopped up into wedges, which I like to peel, but you don't have to.

Four or five tomatoes if you want to make fresh sauce. I generally chop and blend three of them, and then chop two more into quarters to add whole. If you're a bit lazier you can just use a tin of either chopped or whole peeled tomatoes.

One diced onion, and a couple of cloves of garlic, crushed (I use four but I'm a garlic fanatic).

A handful of parsley, chopped up.

You'll also need a sprinkle of dried oregano, and obviously olive oil, salt and pepper, which should all be in your pantry already.

Optional: one big zucchini, sliced up; tomato paste; feta cheese for garnish (depends how flush you're feeling).

Get to frying
The beginning is the best bit because it fills your house with the most delicious aromas. Fry off the onion and garlic, until it becomes translucent. You can do this in a pot, but I like to cook the whole thing in a deep frying pan.
Literally just chuck in everything else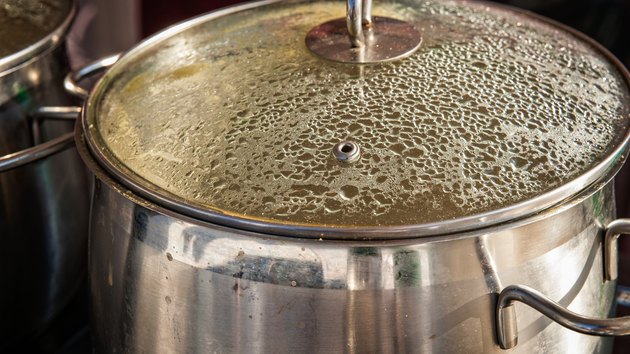 Throw in the potatoes, beans, zucchini, tomato sauce, tomatoes, tomato paste and add a cup of water (keep adding water if it evaporates before the food is cooked). Season with oregano, salt and pepper to taste.
Let it cook
Bring the whole thing to a boil, then turn it down, cover it, and let it do its thing.
Enjoy!
Once you can stick a fork into a potato with ease (probably about 45 minutes to an hour), it's done. Throw in the parsley now, let it cool a bit, and enjoy with feta sprinkled on top and crusty bread (which you can make yourself for super cheap). The great thing about fasolakia is that you can make a huge batch for next to nothing and keep it in the fridge/freezer to have throughout the week.