In August 2011, my husband and I moved into a new apartment. The day after, I felt terrible. Every muscle ached. I had struggled carrying boxes up the stairs, and the thought of unloading everything for the next day had me preemptively exhausted. With my thirtieth birthday just around the corner, I vowed that I would never feel that way again.
Within 18 months, I lost 110 pounds. I did it without a gym membership, dietary supplements, meal services, or heavy equipment. Here are some of my top tips for losing weight without spending a dime.
Stop drinking your calories
5 years into this new lifestyle and I have only eliminated one thing from my diet: Soda. Soft drinks are a big source of empty calories and can be a huge drain on your wallet. I used to drink a 20-ounce Mountain Dew every morning, a can or another 20-ouncer at lunch, and then a glass or two in the evening. That is close to 1300 calories in beverage alone! As far as costs, five 20-ounce bottles at $1.50 each plus a 24-pack of cans (around $8) comes out to about $15.50 a week. By eliminating soda from my diet, I found over $60 more in my wallet per month. Plus, in the first week, I lost 9 pounds with that one change alone.
What did I replace soda with? Just plain old water. I will have an occasional cider and root beer when I'm in the mood, but water really is good for what ails you. Plus, it's free!
Track everything - for free!
When I was 13, I was enrolled in Weight Watchers (yes, this weight thing has been an ongoing struggle). One takeaway was the importance of tracking what you actually eat and the fun of trending data. When I embarked on losing weight in my thirties, I wanted to find something similar to that program, but without the meetings and the fees.
A coworker pointed me in the direction of SparkPeople. This free website is a bounty of great information: Resources for healthy eating and habits, free workout videos and a social channel for sharing blogs and joining challenge communities. Best of all, it has tracking and it's absolutely free! You enter your starting weight, your anticipated workout schedule (minutes/week or calorie burn/week) and an end date. The site will automatically develop a calorie range for you, which will adjust as you lose weight. Note: It will not allow you to aim for losing more than 2 pounds per week, so if you wish to lose weight a little quicker, you will have to make some adjustments. You can also adjust macro nutrients if necessary.
I don't really subscribe to a calories in/calories out ratio, but tracking your food helps to shine a light on your eating patterns and where your calories are coming from. This can help you to make adjustments as you get to know yourself and your habits.
Another benefit was being able to track weight loss, fitness minutes/calories burned and measurements. This was helpful for trending. I could see what types of workouts my body responded to, when I was not eating enough (which is something to watch) and when I was losing inches -- even when the scale didn't budge. Since 2011, fitness/nutrition trackers have been released as apps, which makes it even more convenient. Plus, there is a gamification aspect that allows you to collect points and badges as you reach goals.
Take a walk
Walking is the gateway to great fitness. I walk every chance I get: Lunch breaks, when I need to go over something with a coworker, to the grocery store. Committing to a 10-20 minute walk each day can help you to burn a few extra calories as well as help you to create good habits.
Wearable trackers, such as Fitbits, have really put an emphasis on getting your steps in each day and are great tool for noting trends. If you don't want to spend the money on wearable tech, check with HR or your health insurer to see what you may be able to access for free or low cost. Charity Miles can help you track your mileage while raising money for many great causes, such as The Crohn's & Colitis Foundation, The Wounded Warrior Project, Every Mother Counts, among others. If you have a Fitbit (or don't mind some manual entering), you can earn Balance Rewards for Healthy Choices at Walgreens. Walking a few extra miles a week is worth it for the $5 rewards alone.
Use technology and your resources wisely
Once you start looking, you will be amazed at how many free workout resources are out there. I started with the very popular Couch to 5K. This is an 8-week workout program that is designed to help you go from not running to running an entire 5K. It is available online or as a free app. The best part about the phone app is that you can integrate it with your favorite workout playlist, and verbal cues will tell you when to start walking or running. I still go back to this program when I emerge from Chicago winters and have the chance to exercise outside again.
The biggest help to me was Comcast OnDemand. In 2011, we still subscribed to cable, and the OnDemand section had a wide variety of fitness programs: Walking, kickboxing, HIIT programs, weight-lifting, yoga -- a whole gym's worth of programs included with the outrageous cable bill. I would run three days a week, and do a cable workout on three more. Plus, the variety kept me entertained.
I've since dropped cable, but there are plenty of free workout video resources. YouTube is a great source. My favorite channels are Jessica Smith TV and Fitness Blender. Jessica Smith is friendly and is a great starting point if you are just getting into fitness. Fitness Blender is no frills, but plenty of sweat. Both of these channels offer choices for workout length and intensity.
Community resources have great for free or low-cost options. The one program I did pay for when I embarked on my journey to 160 was karate. My local park district offered the program at less than $8/class, which is a great deal. The fitness center at the community center frequently hosts preview nights for new classes, like Zumba, spinning, and BodyPump. These are usually free and very inexpensive; I often come away with free class coupons and other giveaways, which are well worth the small price of admission. Plus, they offer a great opportunity to try before you buy.
Facebook can also be a great resource for finding an accountability group. Having a space to check in, bitch about your struggles or sore muscles, and gain motivation is essential for staying on track. Fitness is easier with a buddy.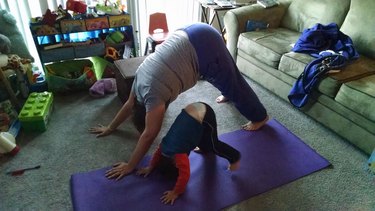 Meal plan for your wallet and your waistline
Meal planning really is the key to my success. Having a game plan helps you to keep track of your calories, all with the added benefit of avoiding takeout or relying on processed dinners. As weekday breakfasts and lunches are pretty much the same, I really only focus on dinners for the week. I try to keep my pantry stocked with cheap staples, like canned beans, boxes of stock, rice, and lots of spices. I use the weekly sale papers, store apps, and apps like iBotta to help me get the best deals for the week. Plus, bargain stores like Aldi and Costco have really stepped up their fresh produce, organic, and healthy food lines.
If you must spend money, spend it here
Invest in a great pair of shoes. This will help to ensure your success in the long run and reduce your chance of injury. I'm lucky to have a great shop called Fleet Feet here in Chicago. They analyze your gait and even let you take the shoes for a test drive around the block before you buy. Spring is really the best time to buy athletic shoes when many stores have sales to capitalize on the nice weather.
If you really think a gym membership is the way to go, I definitely recommend checking with your health insurer or your HR department. Many health insurances offer discounted gym memberships; for example, Blue Cross has a program that gives you access to a national network of gyms for $25/month. Some employers have discount programs or coupon programs available as part of your benefits package.