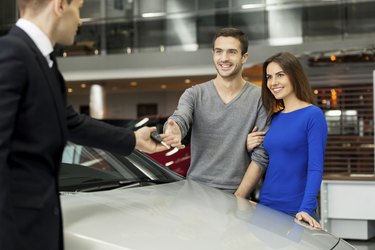 Optional riders in your automobile insurance policies provide for payment of rental car expenses when your car is unavailable for use. How much and for how long the insurance company pays for rental car expenses depends on the type of rider purchased and the amount of coverage chosen. However, you might be able to get rental car payment without the rider if the other driver is at fault.
Optional Riders
Ask for inclusion of an optional rider covering rental car costs, which are usually offered only with policies that have comprehensive and collision coverage. You will find the rider in the policy's declaration pages listed as "extended transportation expenses coverage," "rental reimbursement" or "loss of use." Look for a coverage amount next the rider name. This rider covers rental car expenses only for an accident or loss-of-use event included under the liability or comprehensive coverage of your policy.
Reimbursement Rates
Coverage pays for use of a rental car after an accident or if your car is in for major repairs. The insurance company also should pay for a rental if your car is stolen, though the rules often require a police report and a waiting period after the theft. Select the daily reimbursement rate and maximum coverage amount when you purchase the policy. For instance, you might choose $20 per day reimbursement for up to 30 days with a $600 maximum coverage amount, or 20/600. Choose the amounts based on your expected needs. If the policy covers a larger vehicle used to transport children to daycare, you'll need enough coverage to be able to rent a similar car.
Loss of Use
An insurance company might offer a "loss of use" rider that reimburses the policy holder a flat sum for travel or transportation expenses incurred while your car was unavailable for use because of a covered incident. Reimbursement of rental care expenses is just one cost covered under this rider. Expenses for the use of taxi cabs and public transit also are covered.
Using the Rider
Follow the instructions in your policy for reporting accidents, vehicle theft and disabled vehicle incidents that require towing and repairs. Call the police department and make a report, if required. Contact your insurance company's claim department as soon as possible. Your insurance company might have contracts with specific car rental companies that offer benefits to policy-holders, such as direct billing to the insurance company. If payment is by reimbursement after you have paid the costs, keep receipts that document your payments.
When You're Not at Fault
You might be able to get payment for your rental car even if you do not have a rental reimbursement rider in your policy. Some states require the insurance company of the at-fault driver to pay for the other driver's rental car expenses. The claim is based on provisions in the at-fault driver's liability coverage. Insurance regulations limit the type of vehicle you may rent and the amount of reimbursement you will receive. Ask your insurance company claim representative how to handle the arrangements for this coverage.