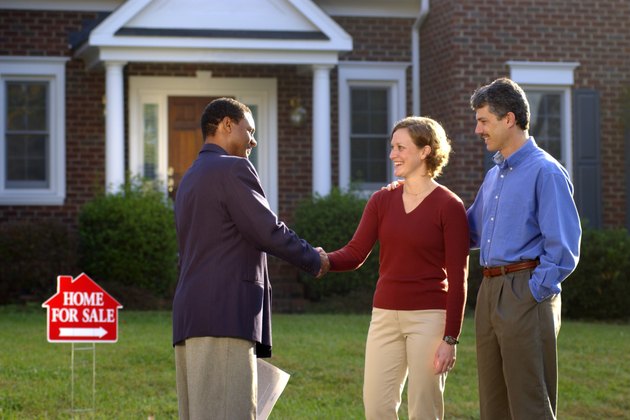 Buying a short sale can be a grueling yet gratifying experience. You can get the home of your dreams, and possibly, at a fair or lower-than-market price. A short sale sells for less than is owed on the mortgage, but requires approval from the seller's mortgage lender. Gaining approval often spans several months. Do your homework on the home and the professionals working on the deal. Choose a buyer's agent who has successfully closed short sale deals, is willing to walk you through the complex process and able to wait for an approval.
Secure a Spot With a Strong Deposit
A competitive offer includes a strong earnest money or good faith deposit, which you can deposit in a trust account with a real estate broker, attorney or escrow company. In a short sale, the seller and the lender review and accept an offer. A seller won't be confident accepting an offer from a buyer who has little or no money for a deposit. A lender is also less likely to accept an offer from a borrower that appears financially weak. A deposit ensures you have skin in the game, and typically ranges from 1 percent to 2 percent of the offer price.
Show Them the Money
A seller and lender want to know how much money you are putting down. A strong down payment of 20 percent or more is ideal, however, you can compensate for a lower down payment by providing proof of loan pre-approval for your low-down-payment loan. At minimum, a pre-approval letter states the:
loan amount the lender will finance
qualifications and documents used to determine your eligibility
lender contact information
A short sale lender may also require proof of down payment funds in the form of account statements.
Put Your Best Price Forward
Your offer should reflect a reasonable offer price. Although a low-ball offer may be tempting because short sale homes are sometimes priced lower than traditional sales, your price should reflect comparable home prices. The short sale lender is trying to obtain the highest possible price for the home to minimize it losses. It conducts an appraisal to get the home's fair market value before approving a short sale, therefore, you're more likely to have your offer accepted if its closer to fair market value. You or your real estate agent can analyze recent home sales to help you determine the right offer amount.
Set Sensible Terms
Your offer should reflect your flexibility as a buyer. Short sales often don't come with the perks afforded in traditional sales. That means the lender may nix any requests for home repairs and closing cost credit and sellers usually don't have the money to shell out. Lenders also prefer buyers that can close quickly, so if your lender needs 60 days to close, rather than the typical 30-to 45-day time frame, your offer may be denied.
Do Your Due Diligence
Once your offer has been accepted, inspect the property and review seller disclosures carefully. This will make you aware of most, if not all, property flaws, possibly saving you a lot of cash and hassle in the future. Diligent buyers hire:
a general home inspector
specialized service providers, such as termite, plumbing and electrical professionals
a real estate attorney to review all short sale documents and contract terms.