IRS Form 433-D, entitled "Installment Agreement," permits taxpayers who cannot afford to pay their entire tax liability by the due date to propose an installment agreement under which the amount due will be paid off. If taxpayers choose to pay their tax burdens through monthly installments, penalties and interest can be added to their overall tax bill, thus increasing the total amount they owe; however, they avoid the problems associated with either not filing a return or filing a return and not addressing the tax due.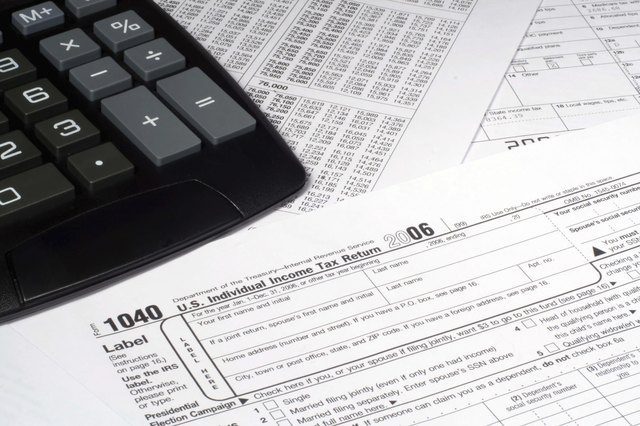 credit: Ryan Fox/iStock/Getty Images
Step
Download IRS Form 433-D from the Internal Revenue Service website or call (800) TAX-FORM to receive a copy.
Step
Fill in your name, spouse's name (if applicable), address, Social Security number, spouse's Social Security number and two telephone numbers at which you can be reached easily. Check the box if you wish to submit a new W-4 form with this agreement as changing your withholdings on a W-4 can prevent you from owing such a large tax bill next year. Provide the name, address and phone number of your employer as well as the name and address of your financial institution.
Step
Supply the form numbers to indicate the kinds of taxes you owe. Indicate the tax periods for which the installment agreement is to be made and the total amount owed to the IRS. Indicate the initial payment amount you're enclosing with Form 433-D, and list the amount you intend to pay per month thereafter, making sure to include a recurring day of each month the IRS can expect future payments. If you plan to increase or decrease the amount you pay on a future date, note this in the box below your installment proposal.
Step
Initial the box to indicate you understand the terms of the installment agreement. If you choose to make payments by direct debit from your checking or savings account, enter your routing number and account number. Attach a voided check to the installment agreement. You and your spouse should sign and date the form and provide your titles.
Step
File Form 433-D with the IRS along with your 1040, 1040EZ or 1040A form. Check the IRS official website for specific instructions regarding the mailing address to which you should send Form 433-D as it varies by region.