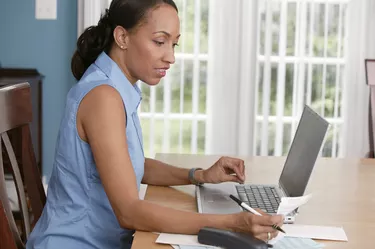 Online bill payment systems are convenient, cost-effective and, for most people, much less stressful that other payment methods. You can ditch your checkbook, envelopes and stamps, and eliminate the chance of a payment getting lost in the mail. In most cases, online bill payment is a free service with options that let you either make a one-time payment or set up monthly payments in advance.
Payment Options
The most common option for paying bills online is an instant transfer using a debit or credit card or an electronic check. With a debit or credit card, payments show up on your bank or credit card account almost immediately. Depending on the merchant, your outstanding balance will update to reflect a payment in anywhere from a few minutes to 24 hours. With an electronic check, processing is similar to a paper check, except that an eCheck clears your bank account much faster. The difference is that while your account will reflect the payment, your outstanding balance might not update until the eCheck actually clears.
Information Requirements
Some merchants accept any payment method, and some will only accept an eCheck. To make an online bill payment using a debit or credit card, you enter the payment amount, card number, expiration date and the three-digit security code located on the back of the card. For an eCheck, you supply the bank's routing number -- a nine-digit number that identifies your bank -- and your account number. In both cases, most merchants provide the option to save the information on the company's database.
Single vs. Recurring payments
Most merchants provide the option to make a one-time payment or set up monthly recurring payments. Automated, recurring payments can be more convenient for paying recurring bills such as utility bills, car payments or student loans. Even though you set up a predetermined payment date and monthly payment amount, most merchants let you modify or cancel an automatic payment as long as you do so before the payment processing date.
Bank Bill Pay Services
Most banks offer online bill pay services that allow you to send monthly payments directly from your checking or savings account. Just like with an online merchant, you can make a one-time payment or set up recurring payments. A bank will require more information, such as the company name and address, and your account number. A bank online bill payment service does not limit you only to paying merchants that accept online payments. If a merchant does not accept online payments, your bank will send the recipient a paper check.
Online Bill Pay Services
If you don't want to make a monthly visit to every merchant you owe money to, you can use online bill paying services such as MYCheckFree, Xpress Bill Pay and ChoicePay. One drawback to using a bill payment service is that your choice is limited to billers that sign up with the service. For example, you may see your utility and communications companies listed, but not your credit card or car loan lender. In some cases fees might apply as well.