Your insured property is a "total loss" if it's damaged beyond repair — or at least the point where repairs don't make financial sense. Suppose your car gets totaled when it's 15 years old. Cutting you a total-loss check for the value of the car is probably cheaper for the insurer than paying for repairs. If you don't like the adjuster's offer on a total loss, you may be able to negotiate a better deal.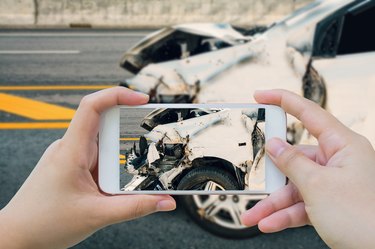 Know the Law
A total loss can be better for your bank balance than a partial loss. In New Hampshire and Florida, for example, if your home is a total loss, you get the full value of your homeowners policy. If your car is old, you may prefer a total loss check to paying for repairs. Knowing the definition of total loss in your state can help you debate with the adjuster. In North Carolina, for instance a car is a total loss if the repairs cost more than 75 percent of the car's value; in Missouri, its 80 percent. Other states let your insurer set its own standard.
Don't Panic
Losing a home or a car can leave you feeling helpless and ready to accept your insurer's initial offer. This is often a money-losing mistake. If your policy provides for a rental car or for a place to live when your house is unlivable, take advantage of that option to buy yourself time. If nothing else, take time to document the extent of your losses. If your home's a total loss, for instance, everything inside it is gone, too. Take time to list all your covered losses. In some states the insurer has to send the undisputed part of the car claim to you immediately.
Do Your Research
If you disagree with the value the adjuster sets on your lost property, you need to give her a reason to reconsider. Suppose your car is totaled, and the adjuster makes a low-ball settlement offer. Check price guides for vehicles: If cars the same age, condition and make as yours are worth more than the adjuster's offer, that's good evidence. If you lose your home, tell the adjuster the makes and ages of your appliances: the newer and better quality, the bigger the check should be. If you don't have receipts, the company that sold you the appliance may have records.
Keep Pushing
If your adjuster gives you her final offer and you think it's not enough, say so. An adjuster has to close claims fast, and she may be willing to go a little higher if she thinks it'll settle things. Be realistic, though. Even if it's less than you need for a new car, the adjuster's job is to offer what your car is worth, not what you need. At some point, you may have to accept a lower offer than you hoped for.