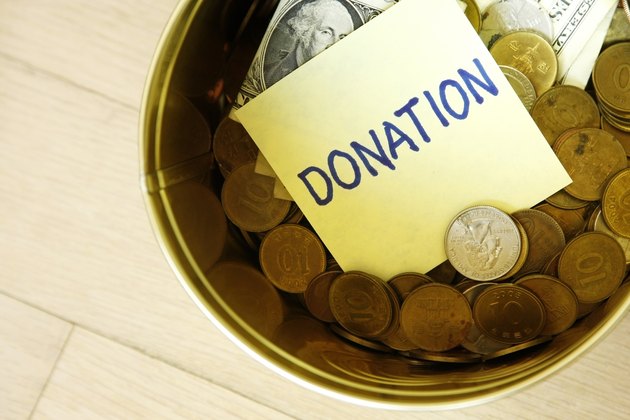 The Internal Revenue Service sets limits on deductions for charitable contributions. In most cases, you can write off donation amounts up to 50 percent of your adjusted gross income. The limit is lower for contributions to private foundations or when you donate appreciated assets. Deductions for these latter contributions are limited to 30 percent or less of AGI. Fortunately, you can carry over excess donations to future years.
Charitable Deduction Carryover Rules
You must itemize deductions to claim charitable contributions. Report current year and carryover contributions on Schedule A, lines 16 to 19. You can carry over excess donated amounts for up to five years. Unused amounts remaining after five years are lost. You must claim charitable contributions for the current year before using carryover amounts. Current year and carryover charitable deductions combined are limited to the applicable AGI percentage limit. The IRS says to claim amounts that fall under the 50 percent of AGI limit first, and then write off charitable contributions that are limited to 30 percent or less of AGI.
Example
Suppose your AGI is $100,000, you made cash charitable donations of $10,000 this year, and you have carryover amounts of $5,000 in cash contributions plus $35,000 from giving to a private foundation. Claim the $15,000 in cash donations because they are under the 50 percent rule. The carryover of $35,000 is subject to the 30 percent rule, so you can only write off $30,000. Carry the remaining $5,000 to a future year.