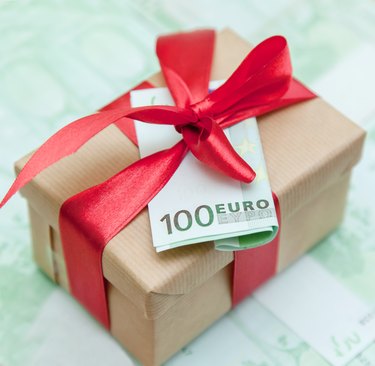 Warning
Participation in the Premium Bond program is designed for taxpayers in the United Kingdom. If you live outside the U.K., you will need to draw funds from a U.K. financial institution.
Tip
You must be age 16 or over in order to buy premium Bonds in your name. Purchasing Premium Bonds as a gift for a child must be done in an adult's name. You can lower the minimum investment to 50 pounds if you apply to make a monthly standing order of Premium Bonds.
How to Buy U.K. Premium Bonds. Premium Bonds are government-issued debt securities primarily sold in the United Kingdom. Instead of earning interest on these investments, participants are entered into a monthly drawing for tax-free cash prizes. Millions of people participate in this program, where prizes range from 50 pounds to 1,000,000 pounds.
Step 1
Buy Premium Bonds directly from any U.K. bank or financial institution. You can purchase them in increments of 100 pounds, with a maximum holding amount of any one individual of 30,000 pounds. Each 100-pound investment gives you 100 numbers that are entered into a monthly drawing, which means you have 100 chances to win.
Step 2
Purchase your Premium Bonds from your nearest Post Office. This is where you can purchase all products and services from National Savings and Investments (NS&I), which conducts the bond program in the United Kingdom.
Step 3
Visit the official website of the NS&I, where you can purchase Premium Bonds directly over the Internet via a secure form (see Resources below). This is quickly becoming the easiest and most popular way for participants to purchase Premium Bonds, and to keep track of the winning ticket numbers in the monthly drawings.
Step 4
Get Premium Bonds over the telephone, or by sending a check in the mail to the NS&I. The contact information is available on the NS&I website.
Step 5
Keep track of the monthly drawings to see if you have won. 2 grand prizes of 1,000,000 pounds are awarded each month, with the rest of the prizes dependent upon how much was invested in any given month. Winnings are completely tax-free, too.
Step 6
Cash in either the partial or whole amount of your bond investment at any time by downloading the form available online, or at any Post Office. You can then mail the form to the NS&I headquarters in Blackpool, and the amount will either be deposited into your bank account, or a check will be issued within 8 days.