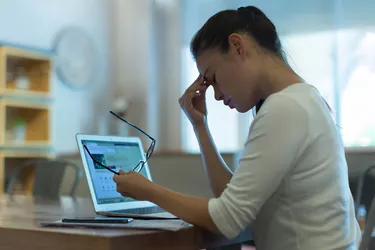 Healthcare costs are an ongoing issue for U.S. consumers, with an estimated ​19 percent​ of households reporting that they carry some form of medical debt. At one time, unpaid medical bills could have impacted your credit, but as of ​July 1, 2022​, you won't have to worry about those bills showing up on your report. Although paid healthcare debt won't show up on your credit report, unpaid medical collections will show up after ​one year​ of nonpayment.
Medical Debt on Credit Reports
Medical bills have been an ongoing problem on consumer credit reports, with billing mistakes running rampant. Debtors spend months trying to get the errors cleared up, often finding it nearly impossible. During the Covid pandemic, some households found themselves with unprecedented bills, with hospitalizations and treatments being so expensive.
Another issue is that medical debt isn't the same as other types of unpaid bills that land with collection agencies. According to research conducted by the Consumer Financial Protection Bureau, unpaid medical debt is not as good an indicator of future on-time bill payments as other types of debt. Thanks to new legislation, though, consumers now have some protection against medical collection debt impacting credit scores.
About the Medical Relief Act
The Medical Debt Relief Act of 2021 changed the rules when it came to medical debt reporting. As of ​July 1, 2022​, the ​three major credit bureaus​ will no longer display medical collections on reports, as long as the debt is paid. If you have unpaid medical collections debt, it won't show up on your credit report for a full year of nonpayment.
TransUnion, Equifax and Experian have each acknowledged the changes and adjusted their practices accordingly. Prior to this new legislation, both paid and unpaid medical debt could be reported to the credit bureaus after only ​six months​. But although this does give Americans more wiggle room with paying bills, it's still important to pay your bills on time or work out payment plans while also checking your credit report often.
About the No Surprises Act
There's another piece of legislation the CFPB is spreading the word about called the No Surprises Act. Starting January 1, 2022, medical providers are no longer allowed to bill patients who didn't realize they were out of network. For uninsured patients, medical providers must also give an estimate of costs before administering treatment.
But it's up to you, as the consumer, to police this. If a bill comes to you or goes to your insurance company with unauthorized charges, there is a dispute process. You can file a dispute online through the Centers for Medicare & Medicaid Services website.
Although paid healthcare debt won't show up on your credit report, unpaid medical collections will show up after one year of nonpayment.
Protecting Against Medical Credit Damage
There are some things you can do to safeguard your credit report against medical expenses. This starts with any bills you get from your health care provider that aren't covered by your health insurance. Paying them as soon as possible before they're late is key to keeping them from being turned over to debt collectors who will report the unpaid debt, after ​one year​, to the major credit reporting agencies.
If you can't afford the payment due, many medical offices can work out a repayment plan that will keep your bill from going to collections. Once it does go to collections, paying it off as quickly as possible can ensure it won't get to the credit bureaus. Lastly, you can pull your free credit report each year to check for any unusual activity and dispute any errors you see.
Medical expenses can make a serious dent in even the most carefully crafted budget. Now that medical collection debt is less likely to impact your creditworthiness, it's important to remain aware of your rights as a consumer. By watching your credit report and paying any medical bills that come your way, you can protect your credit score.