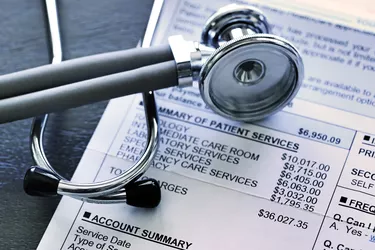 Unexpected medical issues can lead to consumers getting into considerable amounts of medical debt that can destroy personal finances and credit ratings. When unpaid, medical bills can lead to collection efforts and negative credit reports.
Fortunately, the three credit reporting agencies – Transunion, Experian and Equifax – have announced major changes that will soften the burden of medical debts and collections on your credit history.
The Consumer Financial Protection Bureau (CFPB) recently released a report that showed Americans owed nearly ​$88 billion​ in medical debt as of June 2021. According to the CFPB report, ​58 percent​ of debts in collection were medical bills.
Medical debts are usually the result of a single emergency or an unexpected health problem. In addition, more people have incurred medical debts due to the COVID-19 pandemic. Hispanic people, Black people, older Americans and veterans were disproportionately affected.
Medical debts that appear on credit reports can make it more difficult for consumers to secure loans and mortgages. Medical debt can also create problems with getting hired for a job. High amounts of medical debts also increase the likelihood of consumers filing for bankruptcy and avoiding future medical care.
As a result of their study, the CFPB pressured the credit reporting agencies to change how medical debts appeared on everyone's credit reports. The Director of the CFPB, Rohit Chopra, has been very public with his criticisms about the methods used by the credit bureaus to report medical collections.
Changes in Medical Debt Reporting
Beginning July 1, 2022, medical collections debt that has been paid off will no longer be reported on consumers' credit reports. Previously, paid medical collections stayed on credit reports for up to seven years. However, this removal of medical collections will only occur if the bill is paid in full.
The credit bureaus estimate that this change will take off about ​70 percent​ of the medical debts in collection. In addition, consumers will now have a year before unpaid medical collections appear on their credit reports. This will give them more time to work out payment arrangements with the medical providers. The previous grace period for negotiations was six months.
Also, beginning sometime in the first half of 2023, the credit reporting agencies will stop including medical collections in amounts less than ​$500​ in consumers' credit reports.
The major credit reporting agencies have announced changes that will possibly remove medical debts in collections from consumers' credit reports.
The intent of these changes is to remove the fear of getting adequate health care because of the negative effect of high costs and inability to pay medical bills, which could go into collection. In a joint statement, the credit agencies indicated that these steps were taken to allow people to concentrate on their financial and personal well-being without worrying about financial hardships due to medical cost
Medical debts that your service provider keeps on their books will not affect your credit score. However, debts that go into collections can have a significant negative effect on your credit score. A single collection that shows up on your credit report can reduce your score by a hundred points or more. The good news is that the removal of the paid medical collections will improve your credit score.
In the effort to further help consumers, newer FICO and VantageScore algorithms now ignore paid medical debts and place less weight on unpaid medical collection debt, with even less effect as time passes.