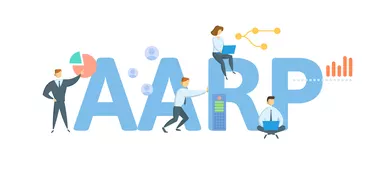 AARP is the senior citizens' guide to enjoying their retirement years without feeling a financial pinch. It says its mission is to "empower people to choose how they live as they age" and not be unduly limited by their budgets. It's dedicated to helping older Americans shave some dollars off almost any purchase you can imagine making, and membership comes at a nominal fee.
But smart shoppers always want to know what they're getting into. What do you get for those AARP membership bucks?
AARP is a nonprofit organization that's been around since 1958. It's the largest in America with nearly ​38 million​ members as of June 2022, according to SeniorLiving.org. It has offices in every American state, plus Puerto Rico, the District of Columbia, and the U.S. Virgin Islands. Its goal is to help seniors with quality-of-life issues.
A year's membership in AARP will literally cost you less than ordering takeout for tonight's dinner: It's just ​$16​. That works out to about ​$1.33 a month​ over the course of an annual membership, and you'll surely save that much if you use it to snag some discounts. And that's a two-for-one deal. The AARP membership also covers another eligible adult in your household.
You have options to whittle that price tag down even more. The price drops to ​$12​ for your first year if you sign up for automatic renewal. You can save ​10 percent​ if you sign up for a three-year membership for ​$43​, and ​21 percent​ if you commit to five years for ​$63​, but you have to pay for the years upfront.
You might even be able to sign up for free if you shop at Walgreens. SeniorLiving.org says that the store occasionally gives away free membership coupons. Check your receipt. There could be a redemption code on there.
AARP's benefits are almost limitless. Let's start with health care issues. AARP offers a dental insurance plan through the Delta Dental insurance company and vision plans through EyeMed. It provides a hearing center that can offer helpful advice, along with an in-person hearing test and a ​20 percent​ discount on hearing aids. The AARP Prescription Discounts Program covers you, your spouse and your dependents for costs that aren't covered by your medical plan or Medicare D.
AARP discounts are also available for car rentals and car buying. Other AARP benefits include auto insurance and homeowners insurance programs through The Hartford, offering reduced premiums.
Restaurants countrywide offer AARP members ​10 to 15 percent​ off their tabs, including McCormick & Schmick's, Bonefish Grill and Outback Steakhouse. You'll get ​15 percent​ off at Denny's. Regal movie theaters will give you ​20 percent​ off if you buy your tickets online. You can access free, printable coupons for grocery and drug stores at Coupon.com.
You'll have access to travel perks and discounts for cruises if you don't want to spend your retirement years in your living room, and discounts of up to ​25 percent​ at Best Western, Hilton, and Radisson hotels and resorts, too.
What's Not to Like About AARP?
It may seem hard to fathom that anyone could have a problem taking advantage of all these membership benefits for just ​$16 a year​, but you can't please all of the people all of the time. SeniorLiving.org does give AARP a 5 out of 5 star rating and the Better Business Bureau rates it A+. But that's where the applause stops as far as BBB is concerned.
Its customer reviews rating is just 1.15 out of 5 stars. A good many complaints relate to not getting promised money back for one thing or another after attempted discounts went awry.
Assuming you think ​$16​ or less is a pretty good deal and you're not put off by potentially having to haggle for a refund if something goes wrong, you can sign up online at the AARP website using a credit card. You can also call 866-654-5573 to sign up by phone. Assistance is available from 7 a.m. to 11 p.m. ET Monday through Friday.
Or you can take care of things the good, old-fashioned way and mail in one of those subscription offers you receive in the mail, along with a paper check. Your membership card will be mailed back to you.
AARP full membership is limited to adults age 50 or older, with that free second membership for your partner or spouse. But you can have an associate membership if you haven't yet reached age 50.