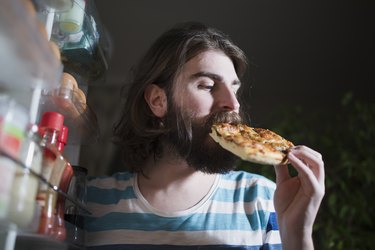 Look, no shame — whatever gets you through the pandemic, right? More than a year into COVID, we've all developed habits we may or may not be totally happy with. If you find yourself snacking late at night, that's not "bad" in itself. However, it may alter how you relate to people the morning after.
Psychologists at North Carolina State University have just released a study on self-identified "unhealthy eating" right before bed. To be clear, this covers eating that study participants actively regret; it doesn't apply automatically to after-dinner snacking. That's important, since the research team also found that these participants reported both physical and psychological setbacks the next morning, ranging from headaches and GI issues to emotional strain.
Because of these, the study also found, these participants also tended to withdraw at work the next day, whether by avoiding necessary tasks or by shirking opportunities to help fellow colleagues.