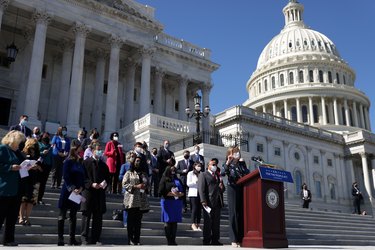 After weeks of wrangling and locking of horns, Congress may finally be ready to pass new COVID relief legislation. It's been a long time coming, and has been much discussed since the November election and before. Up to 12 million Americans may have to adjust their expectations for stimulus checks, though, because during these negotiations, eligibility requirements have changed.
If you've already received previous relief payments from the federal government, you may be banking hard on the upcoming $1,400 checks. Individuals making up to $75,000 will still be getting those payments as soon as they're disbursed, as well as heads of household making up to $112,500 and married couples filing jointly with an income up to $150,000. Initially, the $1,400 checks were to be sent out to adults making up to $100,000 per year, but due to pressure from Senate moderates, the Biden administration has pared down the adjusted gross income that's eligible to $80,000.
That means at least 8 million Americans will get no or reduced payments, but this change won't affect those in the lowest income brackets — all told, the bottom 60 percent of American earners.
Of course, the latest COVID relief package is still in flux; while the House of Representatives has passed a version of the deal, the Senate is still debating the details. After that, the two bills will need to be combined and amended for the president's signature. There's still time to weigh in with your elected representatives, however you think the relief payments should go out to Americans' bank accounts.