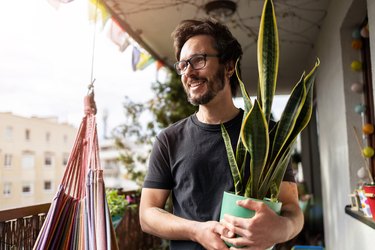 To point out that it's a bad time out there is the understatement of the century. Between the coronavirus pandemic and the job losses on par with the Great Depression, you'd think the bills would let up, but no such luck. Millions of renters haven't been paying their rent since April, and the federal government's single $1,200 check can only go so far.
The specter of eviction might be looming in your mind; it's a real problem set against a pretty terrible system for millions of Americans. If you're struggling to figure out how to broach the topic with your landlord right now, you're in luck. Legal clinics at Brigham Young University and the University of Arizona law schools have come together to build Hello Landlord, a totally free online tool that builds a letter to send your management company — and that offers guidance that protects you both.
While Hello Landlord only "gives legal information, not legal advice," it frees you from worrying about knowing the right thing to say. Instructions are available in English and Spanish, and all you have to do is fill in some information and answer a few questions, including whether you have already missed a rent payment or you believe you're going to in the near future.
The purpose of the letter is to remind your landlord of a clause in the federal CARES Act, passed at the end of March, that prohibits your landlord from evicting you because of financial hardship due to COVID-19. If you've got further questions about tenants' rights and advocacy, look up local resources that can help you further, but Hello Landlord could be a good first step.