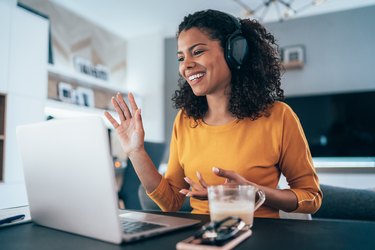 On the one hand, a pandemic might be the one time it's good to already work at home. You've got your work area, your routines, and your client list all ready to go. On the other hand, despite the forthcoming $1,200 checks (timing TBD), there's no industry bailout for freelancers per se — which is a problem, given how many people work for themselves these days.
There are lots of ways to keep yourself afloat, if you've got the hustle, but not everyone is cut out for Patreons, fundraisers, and viral personal appeals for cash. Enter the Freelancers Relief Fund, organized by the Freelancers Union. Applications for the fund, which will disburse "up to $1,000 per freelance household to cover lost income and essential expenses not covered by government relief programs," open on April 2. If you need help with food, food supplies, utility payments, and/or cash assistance to make up for lost income in general, get ready to apply.
What will that look like? "All applicants will be required to complete a certified application form to demonstrate eligibility, including a detailed questionnaire assessing work history, annual household income, description of hardship, type of funds and funding amount requested, including supporting documentation." If you've been working freelance for at least one year, you're eligible. Losing clients isn't the only qualification either; if you can't work because you're caring for a loved one, that counts too.
This is a hard time to budget, and this fund won't fix everything, but it is a start. Contact your elected representatives to find out about further relief programs in your city or state, and to let them know what it is you really need.