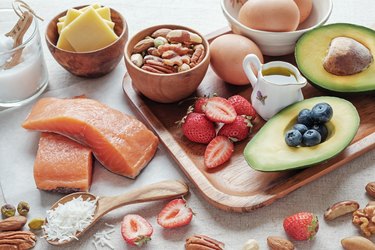 No matter what time of year it is, at any given moment, we're more than likely trying to optimize our health (and, because culture, appearance). Sometimes this comes down to buying new gadgets, committing to weekly gym time, or reworking your diet. Over the last several years, more and more people have given the ketogentic diet a try.
It's supposed to be semi-miraculous for any number of reasons (thanks, celebrity endorsements); adherents eat meals primarily composed of protein and fat, with vanishingly few carbohydrates. Researchers from Yale University have a new recommendation for how long we should stick to such a diet, and it's actually very little. To get the most out of a keto diet, you probably only need to do it for about a week.
This comes down to what the keto diet actually does, which is encourage the body to use fat cells for energy, rather than carbohydrates. In effect, however, this is dancing on the edge of starvation mode. During the first week of a keto diet, followers can see health effects like improved metabolism and reduced inflammation. After that, the body's metabolism seeks to store fats even as it burns them.
While long-term adjustments to lifestyle and eating habits, in consultation with a health care professional, are the best way to find the right balance for your body, this recommendation could be good news, even for keto's biggest fans. Limiting the diet to a set period of time could make following through easier, and as lead author Vishwa Deep Dixit puts it, "Who wants to be on a diet forever?"