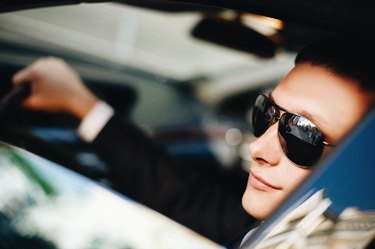 Most of us are keenly aware of the irony: When we were kids, we were constantly told never to get in a car with a stranger. Now ride-sharing is a huge part of our day-to-day lives. We've largely come to accept that the stranger driving us through town has our best interests at heart. One company is taking your security one much-needed step further.
This week, Lyft announced that it would start running continuous criminal background checks on all its drivers. Previously, Lyft drivers had to participate in annual background checks, including when they signed on to the service. "This background check includes a Social Security number trace, a nationwide criminal search, a county court records search, [and] a federal criminal search, as well as a U.S. Department of Justice 50-state sex offender registry search," the company said in a blog post.
Now, Lyft will monitor its drivers daily, collecting any pings from infractions or charges and acting accordingly. A driver who fails a check will be barred from the service; however, as VentureBeat points out, it's not entirely clear whether that ban is permanent, or whether an appeals system is in place, including in the case of false positives. Lyft also announced an enhanced identity verification process, which could protect against such errors.
How this new policy rolls out remains to be seen. For drivers, ride-share gigs are somewhere between exploitive and tantalizing. For anyone who's had a bad encounter with a ride-share driver, whether it's just an uncomfortable conversation or a terrifying sexual assault, this should hopefully create some accountability for Lyft.