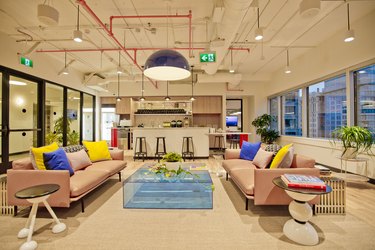 Whether it's as informal as a coffee-shop meetup or as structured as a paid membership, finding ways to work together in physical spaces is a must for tons of freelancers. While you're not technically colleagues, you are definitely coworkers. That goes beyond just showing up in something more than your pajamas.
Writing for Entrepreneur, Felena Hanson shares the six most important faux pas you can make at a coworking space. All of them come down to one element in particular: The co- can be as or more important than the ­working. For instance, Hanson advises remembering that your fellow freelancers are not actually your target audience for anything, unless they ask for your services. Coworking spaces aren't there for you to network, to get people on your mailing list, or to recreate workplace drama — but they are there to form a supportive community of entrepreneurs, if you're ready to contribute.
This includes what Hanson calls "struggling in silence." "A lot of women hesitate to join a coworking space until they feel they have everything figured out," she writes. "But by waiting, you're missing out on all the benefits that come with being a part of a coworking community." That's another reason to actually show up when you sign up for a seat at the table. It's not the gym, Hanson points out — and you're a lot more likely to get help and make connections when you show everyone else that you're treating a coworking space like an office.