You want to buy a house, but with rent prices reaching all-time highs, saving up for a down payment can be challenging. Some lenders will go as low as 3 percent, which means you'll only need $3,000 for every $100,000 you borrow. However, if you don't want to continue to pay rent while slipping coins into your piggy bank, there is another option. Some lenders offer zero-down home loans, which means you can go from renter to homeowner without taking a dime out of your bank account. But you'll pay back the money the bank loans you for the down payment with interest, so it's important to know what you're getting into before closing.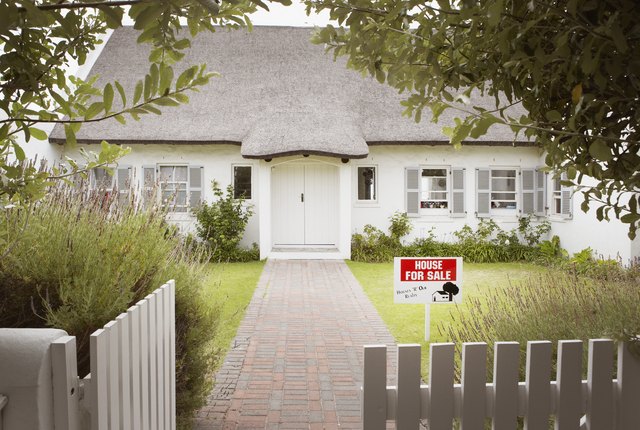 credit: Tom Merton/OJO Images/GettyImages
Zero-Down Home Loans
When you purchase a home, traditionally lenders expect you to pay a percentage of the purchase price and they issue the rest as a loan. If you pay less than 20 percent, the lender makes you pay for private mortgage insurance, or PMI, which protects them if you default. Lenders that offer zero-down loans agree to loan the entire purchase price of the home, which you then must pay back with interest. There are only a limited number of lenders offering zero down-payment options and you may not get as competitive an interest rate as you would if you were free to shop a wider range of lenders.
Can I Buy a House With No Money Down?
One of the lenders offering 100 percent financing is Navy Federal Credit Union, which is limited to members of the military and their families. If you're a veteran, there's also the option of a VA loan, which issues zero down-payment loans for home purchases. These are two of the very few zero down-payment options available. However, it might be worth checking with small, local credit unions, especially if they're limited to those in specific professions, since they might be more willing to take a risk than a corporate lender.
Can I Get Down Payment Assistance With an FHA Loan?
There are options available to many first-time homebuyers, such as the down payment assistance grants offered by many states. The Kansas Housing Assistance Program, for instance, provides 4 percent cash assistance to qualifying homebuyers. These state programs are designed to help low-income residents, so you'll need to provide proof your income doesn't exceed the maximum. In some states, partial assistance is given, with the homebuyer expected to match the contribution.
Is There a Zero-Down FHA Loan?
Unfortunately, only one government-backed loan offers a zero-down option and that's the VA loan. You'll need to be a veteran to qualify for that loan. With an FHA loan, you'll generally be asked to make a down payment of at least 3.5 percent of the home's purchase price, although you may be able to get assistance through a state-provided program, assuming your income falls below a certain amount.
Do FHA Loans Have Income Limits?
If you're asking for down-payment assistance from a local program, you may have income qualifications. But if you're going directly for an FHA loan, there are no income maximums. Like other loans, though, you'll need to qualify based on your debt-to-income ratio, as well as your credit score. With an FHA loan, there may be a loan guaranty limit, which means you may not be able to borrow more than a certain amount based on the area where the home is located.
Other Considerations
Before you opt to skip the down payment, make sure you've weighed your options. By borrowing the full sum of the loan, you'll pay significantly more over the long term, since the lender will charge interest on the full amount of the loan, rather than 80 to 97 percent of it. If you do opt to go with a zero-down loan, consider refinancing or paying extra on your loan each month once you're on better financial footing. In doing this, you'll gradually reduce the amount of money you owe and find you're paying more on the principal each month, rather than putting most of your payment toward interest.