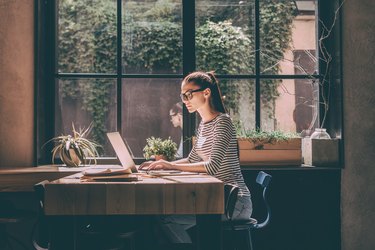 We read far too many accounts of workplaces treating male employees better than female employees; and to say we're over that kind of sexism would be an understatement. Which is why we were so excited to see a list devoted to calling out the businesses that promote, and invest in their female employees.
The job reviewing platform Fairygodboss released their annual ranking of the best places for women to work. The gathered there results via anonymous surveys and reviews, and made their list according to female job satisfaction, equal treatment in the workplace, and whether or not people taking the survey would recommend the company to other women.
Georgene Huang, the CEO and founder of Fairygodboss told Refinery29 that while no company is perfect, the 25 companies on this list, "uniformly have a lot of female employees who give their companies credit for trying. Almost all of these employers have made significant and real investments in hiring, retaining and promoting women. They have done so through improving their benefits, programs, and culture."
Here is the list of the top 25 workplaces for women — it's notable that most of these are old, established places of business. Startups might be all the rage, but the old guard is definitely doing something right.
Boston Consulting Group
Dell
Accenture
PepsiCo
General Electric
Salesforce, Deloitte & PwC
Vanguard Group & Apple
American Express Company
Kaiser Permanente
Thomson Reuters
Time Inc.
Cisco Systems
Microsoft
Google & Bloomberg
McKinsey & Company
KPMG
EY
Wells Fargo
Goldman Sachs
JP Morgan Chase & Co
Target Corporation & The Home Depot
IBM
Dow Jones
Liberty Mutual Group
Intel Corporation