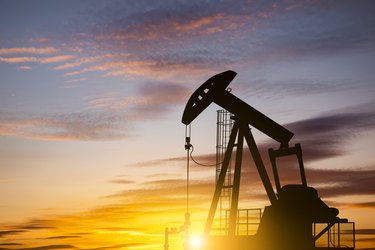 Brokers facilitate transactions between buyers and sellers, and according to writers from Gaebler, oil brokers work in the global oil market with crude oil securities. They are also called commodities brokers, and act as direct intermediaries between buyers and oil companies in the energy marketplace or work through commodities exchanges. To become successful, an oil broker has to have academic qualifications, plus strong organizational and sales skills.
Writers from Spiegato explain that crude oil is shipped to refineries, and the energy companies that produce it use oil brokers to find buyers. All brokers attempt to get their clients the best deals, so they will try for the highest selling prices. Buyers, on the other hand, want the lowest prices so brokers spend a great deal of time negotiating. The prices are based on supply and demand, but in many cases, the trades involve futures contracts.
The team at Gradireland posts that commodities brokers can sell things like grain, sugar, coffee and metals. Some travel may be required, but not that much in most cases. Daily responsibilities include trading for clients, monitoring market performance and interpreting reports, negotiating prices and specifications and trying to get new customers.
Futures Contracts and Oil Brokers
Futures contracts are also a big part of this business. A futures contract is transacted when sellers decide to sell commodities to buyers at fixed prices for future dates. Brokers advise the parties if the prices are predicted to go up or down in the future, so locking in a price can be beneficial.
A crude oil trader salary is based on commission, so the amount of money earned can fluctuate from year to year. Many supplement their income by investing their own funds as well. This is a high-pressure job, and these brokers normally work more than 40 hours a week.
Oil Broker Education Requirements
There are no formal education requirements for oil brokers, but having a good understanding of mathematics and finance can help. College graduates with degrees in economics and finance have a better chance of getting hired; some companies want their employees to have master's and doctorate degrees in mathematics or math-related topics.
Since commodity trading is heavily regulated, prospective oil brokers have to attend training classes that focus on securities laws, disclosure requirements and securities laws. After these classes, there are examinations that must be passed. From there, these individuals must apply for and receive trading licenses, and pass background checks before getting hired by an oil brokerage company or a commodities exchange firm.
Experts from Glassdoor post that a crude oil trader salary in this country ranges from ​$61,000​ to ​$261,000​, with a yearly average base pay of ​$125,912​. The team from ZipRecruiter share data that shows a much lower national average salary, putting it at ​$87,517.​ Since oil brokers earn base salaries and commissions, it can be hard to put a finger on the exact number. Brokerages have different commission structures, and the monies are not always reported accurately.
The U.S. Bureau of Labor Statistics groups oil brokers in with the category of "Securities, Commodities, and Financial Services Sales Agents," which also includes brokers who sell stocks, annuities and other financial products. This resource shows a yearly median commodities broker salary of ​$64,770​, or ​$31.14​ an hour. It is predicted that this field will experience slower than average growth from 2020 to 2030 of about 4 percent.