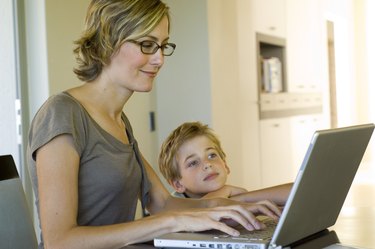 After five years of study, Jay Smart (not his real name) will earn a Ph.D. in religion from Marquette University in Milwaukee, Wisconsin. His graduation ceremony will celebrate the hundreds of hours of hard work attending courses and writing his dissertation. Not only will the aspiring professor have the personal satisfaction of having completed this rare educational milestone — but he also will have done it without paying much of the roughly $45,000 price tag out of his own pocket.
"I don't think that a Ph.D. — in the humanities, especially — is worth it unless you get a good financial package from the university, including a tuition scholarship, assistantships and fellowships," says Smart, who is married and the father of one child. "There are some exceptions, but if you are going into a field where there are few non-academic career applications for your degree, the hurdles are just too great to continue without financial support." It sounds gloomy, but current research shows that, in general, he's far from wrong.
If you are going into a field where there are few non-academic career applications for your degree, the hurdles are just too great to continue without financial support.

Jay Smart (psuedonym), Ph.D. candidate
Being Smart About Tuition Cost
For some careers, a bachelor's degree weighs about the same as a high school diploma did a generation or two ago. A graduate degree is desirable in some fields — including nursing and education — more than ever, as professionals need additional educational credentials to boost their earning potential or advance their job standing. As of the ate of publication, enrollment and financial aid data from the most recent National Postsecondary Student Aid Study available revealed that of approximately 3 million graduate students in the United States, two-thirds were in master's programs, while 15 percent were in doctoral programs. "The average annual price of attendance for full-time graduate study ranged from $28,400 for a master's program at a public institution to $52,200 for a professional-degree program at a private, nonprofit institution," the Chronicle of Higher Education reported.
Smart's ability to defray most of his tuition costs wasn't just luck. U.S. News and World Report indicates that about 40 percent of graduate students get some amount of "free" money to finance their degrees. "Sometimes these resources will be termed 'scholarships,' other times they'll be called 'grants' or 'gift aid' or 'tuition discounts,' writes Kevin Walker, co-founder and CEO of SimpleTuition, a website devoted to financial aid information for college and graduate students. But, he cautions, "No matter the source of the free money, you're going to have to advocate vigorously for yourself to get these resources."
Walker is right: Free money for education beyond a bachelor's degree takes effort to secure and requires tradeoffs in other areas, such as consumer lifestyle and choices in living arrangements. But if you have previously abandoned pursuing graduate studies simply because of the high cost, you may want to reconsider. Earning another degree does not have to mire you in endless debt or deplete your savings if you draft and execute a wise financial plan of action. In fact, it is possible to add additional letters behind your name without paying a substantial amount of tuition. In some cases, you may ultimately pay next to nothing for your classes.
Tip No. 1: Get Reimbursed
Just because you work full time doesn't mean that graduate school is out of reach. Statistics reported in the Chronicle of Higher Education indicate that most graduate students in non-professional programs delayed going back to school for their second degree. Full-time workers may earn an MBA — or another work-related master's degree that can help propel them into management — through their company's tuition reimbursement program. In this scenario, you pay for your courses upfront, then your company refunds your money later, such as after the term is over and your grades become available. You just have to spell out a compelling case of what's in it for your employer to maximize your funding potential.
For example, indicate that you are committed to staying with the company for the long haul, as your boss is unlikely to shell out company money just so you can turn around and jump ship before the ink on your new diploma is dry. Also, remind your employer about tuition reimbursement tax breaks for the organization. Make your request a win-win for everyone, and you may be able to save thousands on your degree — up to the full cost of tuition, depending on your position and employer.
Just make sure you talk with your employer before you start registering for classes. Thoroughly investigate the company's tuition reimbursement policies, such as grade requirements and protocols for tuition bill submissions. Remember, once you matriculate at most schools, your tab starts running. You don't want to assume that the boss will come on board after you've already committed to your studies, because if she doesn't, you'll end up paying big bucks on your own — exactly what you're trying to avoid.
Tip No. 2: Get a Doctorate
The Chronicle of Higher Education reports that while most students finance their graduate education through loans, Ph.D. students were least likely of all graduate students to depend on this debt-accruing option. It's true that a doctoral degree rather than a master's degree can save you substantial money if you study full time. Some programs offer a master's degree en route to the Ph.D., so in a way, you end up with two graduate degrees for the price of one. The most attractive reason for going to go for the doctorate is the "free money." School-based financial aid — that need not be paid back — in the form of assistantships, fellowships and tuition scholarships, is common at the doctoral level but much harder to come by when pursuing a master's degree. This is probably because many (though not all) Ph.D. programs require full-time study. That was the only option Smart's department offered.
Knowing he would have to give up full-time work for years, Smart made it clear to the university that he needed to be compensated for his study time. "I explained that I couldn't quit my job and move across the country unless I knew that I would have support after the second year," said Smart, who went on to secure a two-year tuition scholarship from the department of theology, a two-year external fellowship for living expenses, a one-year graduate assistantship, a one-year dissertation fellowship and a prestigious yearlong external dissertation fellowship. He did, however, have to take out a small student loan during his third year to help with household expenses while his wife was unemployed for six months.
GradSchoolTips.com, an information website of the Graduate Educational Informational Service, indicates that the fellowship — available both from students' schools and from external organizations — is the most desirable form of financial support because it really is free. Unlike an assistantship, which also doesn't have to be paid back, a fellowship does not come with a work commitment attached to it. Prestigious fellowships, including the Ford Fellowship, the Truman Fellowship and the Paul and Daisy Soros Fellowships for New Americans, are awarded in various disciplines at pre-dissertation and post-doctoral levels.
It must be noted that competition for these sometimes-renewable forms of support is fierce — as is acceptance into reputable programs of doctoral study. They are typically awarded to students among the best and brightest with excellent grades and test scores. But they are worth applying for, as they go a long way in paying for most, if not all, tuition costs for the length of the award.
Tip No. 3: Get Forgiven
In the event that a student loan is the most feasible way for you to pursue graduate study, there is a third way to lessen your monetary contribution. Certain professions, including medicine, law and K-12 education, have made it easier to do well by your loan while doing good for others. A public service career in a designated poor rural or inner-city locale can get up to 100 percent of your loan forgiven if you devote several years to helping underserved populations. Public-service professions offering full loan cancellation for full-time careers include law enforcement, firefighting, public defender legal assistance, librarian, speech language pathology and nursing. Public school teachers in certain content areas may have loans for $5,000 to $17,500 forgiven after they have already made 120 consecutive monthly payments while employed as a full-time educator. All told, these programs can result in anywhere from 15 percent to 100 percent savings in graduate degree tuition costs.
While it is better than nothing, this financing option is not a panacea. FinAid.com, a comprehensive financial aid information site, offers three warnings about student debt forgiveness programs. First, they are designed to benefit those with high student debt in careers that would not permit them to pay off their loans and maintain a decent standard of living. Second, because it is a "back-end" loan forgiveness program, the public service loan forgiveness is an all-or-nothing benefit. If a borrower stops working full time in a public service job, even with just a few of the 120 payments left, they get no forgiveness. And third, loan forgiveness/cancellation programs primarily serve "to remove debt as a disincentive to pursuing a career in public service." In other words, careers in this sector are generally lower-paying whether trainees borrowed money to finance their degrees or not. This just helps to alleviate some of the financial strain commonly associated with positions in these professions.
Tip 4: Get It Debt-Free
So what if none of these three options works for or applies to your scenario, but you still yearn for a graduate degree? You may still save yourself money without tacked-on interest, extended years of study or a low-paying career by self-financing two old-fashioned ways: work-study or savings. That's how Daniel Ying earned a doctor of ministry degree from Trinity International University in Deerfield, Illinois. A pastor by profession, the married father of three used money he and his wife — a stay-at-home mom at the time — stashed away to pay for the roughly $15,000 degree. "We definitely had to plan in order to afford my doctoral program," Ying admits. "But by consciously keeping our spending under control and discipline in budgeting, the financing did not have any adverse effects on our day-to-day living expenses."
Most people, however, have to make some kind of tradeoff for a graduate degree that costs them less. Ying's program was specifically designed to accommodate the schedules of working pastors. As such, he was able to attend Trinity part time while maintaining a full-time minister position, which he resigned after a 10-year tenure to devote all his energy to completing his dissertation. He took six years to complete it.
5 Tips to Endure the Frugal Graduate Student Life
Ken Ilgunas (spartanstudent.blogspot.com) lived in a van to save money and pay debt-free tuition for graduate school at Duke University. While you don't have to take such extreme measures, you will likely make some tradeoffs to earn a degree without a full-price tuition tag. A few lessons from his story can help you earn your degree with cash to spare:
Have a financial plan to pay for tuition. Apply to a state school for lower tuition rates. Apply for every assistantship, fellowship and scholarship for which you qualify every year you are in school. Eliminate all unnecessary spending for the duration of your studies.

Cut down your commute and housing expenses. Live near or on campus, if possible, and walk to class. While you likely won't want to live in a dorm with undergrads, private housing in these areas is likely to be less expensive than elsewhere. Get a roommate. All of this yields savings on rent, gas and parking fees.

Stay healthy. Even though most schools require health insurance, the co-pays can add up if you're making frequent doctor visits. It's cost-effective in the long run to be proactive in taking care of yourself. Learn to cook if you don't know how, and drink plenty of water (it's free). Work out regularly, and use the campus clinic for routine checkups and minor illness treatments.

If you're married to a working spouse, consider living on one income if possible. Help contribute to the family bottom line by saving money. Use free textbooks from the library. Forgo buying a new car until after your studies end. Use your student discount for purchases, and spend quality, low-cost family time at home.

Budget for incidentals. Life happens, even when you're a graduate student. Save some of your stipend and build a small emergency fund.