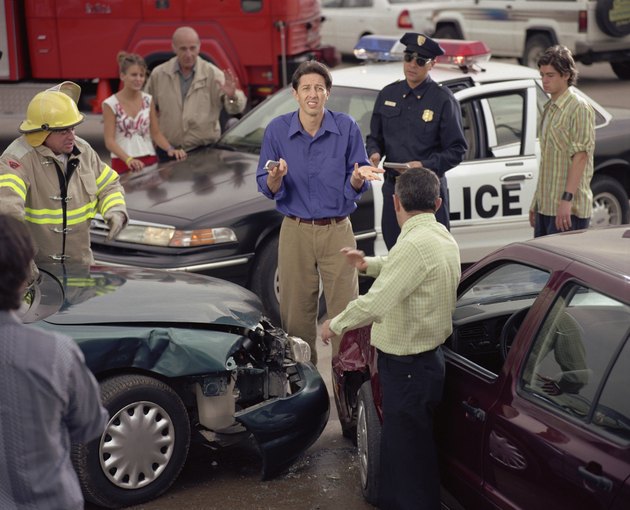 Almost everyone knows that if you own a car, you must have automobile insurance. However, for some drivers, purchasing a non-owner's policy is not only essential for the protection of their personal assets, the laws of their state require the purchase. While insurance companies typically do not advertise policies for people who do not own an automobile, many of them offer liability coverage for consumers who do not own a vehicle.
Who Needs Non-Owner's Insurance?
The driver of a car is liable for any costs not covered by the owner of the vehicle's insurance policy. If you ever borrow vehicles, a non-owner's policy will pay the amounts above the primary policy limits and protect your personal assets if you cause an accident. Individuals who rent vehicles often will find that it is cheaper to purchase a non-owner's policy than to buy temporary insurance from the rental company, according to CarsDirect. States such as Virginia require individuals without a vehicle but with major driving violations to purchase a policy.
Who Does Not Need A Policy?
If someone in your household owns a vehicle or you normally borrow a car from the same person, you should ask the owner to put you on his policy instead of buying a non-owner's policy. CarInsurance.com states that many insurance companies and state laws require the insurance policy owner to put any licensed driver who uses the car on the policy. If an insurance company determines that you purchased a non-owner's policy to avoid potential extra costs on an owner's policy, it could refuse to pay any claims.
Coverage Varies
What a non-owner's policy covers varies by company. Many policies pay for body and property damage liability. Some companies also offer coverage for under/uninsured motorist personal injury and medical payments. One key thing to remember when considering a non-owner policy is that the coverage is liability coverage only. It will only pay for damage to the other vehicle and, possibly, occupants of the other vehicle. The primary policy on the vehicle that you are driving pays for damage to it and its occupants.
Getting a Policy
Since optional coverage items that are available to vehicle owners -- such as towing and rental reimbursement -- are not available on non-owner policies, the premiums are typically cheaper than traditional policies. According to Bankrate, the cost can be as low as $500 per year. Shoppers may be able to get a discount by calling their homeowner's or renter's insurance provider. You will need a valid driver's license and should expect the insurance company to perform a background check on your driving record before it gives you a quote for the policy.